Ayurveda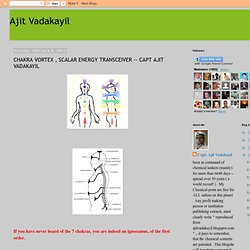 If you have never heard of the 7 chakras, you are indeed an ignoramus, of the first order.When my wife took her exam in Reiki, the old Guru gave her his quartz tetrahydron dowser , and told her to douse his body and find out which chakra of his body needs speeding up. She found a weak Manipura , and thus got her 4th degree ( one step above Grandmaster ).Before that he took her to a room, with about 50 pictures of various dieties and saints, and told her that the energy would come to her chakras from only one of the pictures.
CHAKRA VORTEX , SCALAR ENERGY TRANSCEIVER -- CAPT AJIT VADAKAYIL
Developed in India more than 5,000 years ago, Ayurveda is thought to be the oldest medical system known. According to Hindu mythology, it is the medicine of the gods. Today, it is practiced less as a religion and more as a way of life.
AMFI - Ayurveda Resource Guide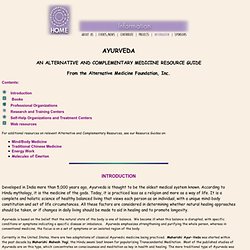 Ayurvedic Institute - Online Resource
Jiva Ayurveda-Articles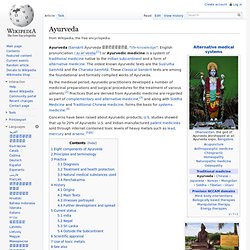 Ayurveda
See also Ayurveda in America Ayurveda (Sanskrit Āyurveda आयुर्वेद, "life-knowledge"; English pronunciation /ˌaɪ.ərˈveɪdə/[1]) or Ayurvedic medicine is a system of traditional medicine native to the Indian subcontinent and a form of alternative medicine. The oldest known ayurvedic texts are the Suśrutha Saṃhitā and the Charaka Saṃhitā.[2] These Classical Sanskrit texts are among the foundational and formally compiled works of ayurveda. Charak By the medieval period, ayurvedic practitioners developed a number of medicinal preparations and surgical procedures for the treatment of various ailments.[3] Practices that are derived from Ayurvedic medicine are regarded as part of complementary and alternative medicine,[4] along with siddha and Traditional Chinese medicine, form the basis for systems medicine.[5] Eight components of Ayurveda[edit]