Tools
Lean Canvas If you're an early stage startup the last thing you want to have to do is write a 30 page business plan. Wouldn't it be great if you document your business model on one page, allowing you to focus on actually building your business? This great tool lets you adopt the principles of the business model canvas using a simple web interface. Create multiple canvases if you like, collaborate and share with others, and re-visit later.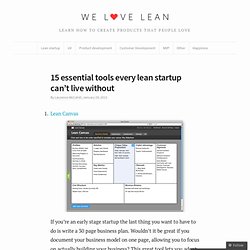 15 essential tools every lean startup can't live without - We Love Lean by Spook Studio
When you first launch a product, lots of things can and do go wrong. The common tendency is to want to collect as much data as possible. But in today's world, where we can measure almost anything, we often end up drowning in a sea of information.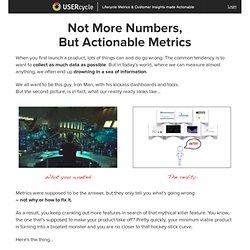 Turn Your Users into Happy Paying Customers - USERcycle
"As an Entrepreneur In Residence at Trinity Ventures, my job is to invent and evaluate business ideas. There's no tool out there today that is anywhere near as helpful as LLL for systematically assessing the hypotheses underlying a potential business." David Weekly, Founder, PBWorks, HackerDojo, Mexican.VC "LLL provides the unique mix of business model canvas and blog functionality that allows for better management of information and BOD's. hugely helpful as we teach startups how to manage their resources."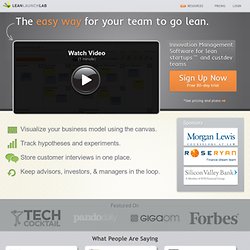 Human Resource IS | HRMS | HRIS | Software for HR | HR Software | HR Solutions | OrangeHRM - Human Resource Management Software
Public Forums Support your customers in the open! With public forums, you can offer a public space to your users to discuss common issues and get feedback, while still keeping certain categories private (billing, orders, ...).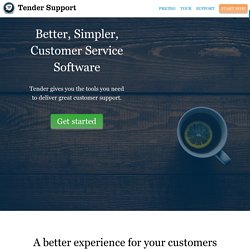 Meetings are faster and reports are unnecessary when you can see at a glance exactly what's happening in your project. See process risks before they turn into problems. "What should I be doing right now" The stressful question is a thing of the past. Everyone who's helping you sees the same information, even when you can not be together, so everyone knows what's going on and what to do. The best way to predict the future is by learning from the past.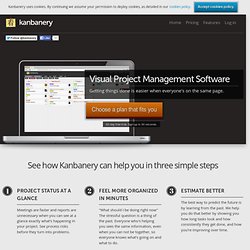 Kanbanery
Features