Mobile Platforms
Future phones may send data and apps via photography. You know the drill: you want to send a Google map from your iMac to your iPhone, so you email a link to the page to your iPhone, open Mail on the phone, and then tap on the link on the email message to open Apple's Maps app.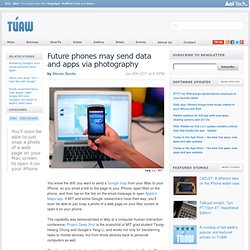 If MIT and some Google researchers have their way, you'll soon be able to just snap a photo of a web page on your Mac screen to open it on your phone. The capability was demonstrated in May at a computer-human interaction conference. Project Deep Shot is the brainchild of MIT grad student Tsung-Hsiang Chung and Google's Yang Li, and works not only for transferring tasks to mobile devices, but from those devices back to personal computers as well. Google owns the technology, but has not said if or when it will make Deep Shot available to the public. Be sure to check out the video below for a demonstration of the technology in action. Smartphone data usage jumps 89% in the U.S., Android users still biggest gluttons. The Nielsen Company on Friday released its latest findings regarding smartphone data usage and as expected, data consumption continued to increase at an explosive pace in the first quarter of 2011.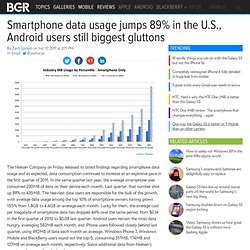 In the same quarter last year, the average smartphone user consumed 230MB of data on their device each month. Last quarter, that number shot up 89% to 435MB. Ansca Mobile's advanced mobile app development tool. BasicBuild your games or apps in record time and start monetizing with in-app purchases or ads.BUY $16/monthProPro adds advanced graphics, all Corona Plugins, analytics and much more.BUY $49/monthEnterpriseCall any native library (C++/Objective-C/Java) from your Corona app and do offline builds.CONTACT US Download Corona and you are automatically a Corona SDK Starter.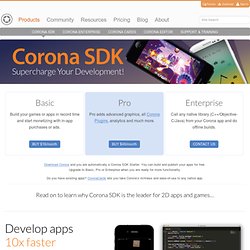 You can build and publish your apps for free.Upgrade to Basic, Pro or Enterprise when you are ready for more functionality. Concept Series » Blog Archive » Concept Series: Seabird – A Community-driven Mobile Phone Concept.
Microsoft
Android. NVIDIA announces quad-core Kal-El SOC, promises it in tablets by August (video) So it turns out that NVIDIA roadmap we saw last month was as true and pure as driven snow.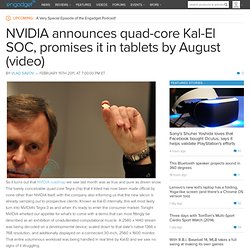 The barely conceivable quad-core Tegra chip that it listed has now been made official by none other than NVIDIA itself, with the company also informing us that the new silicon is already sampling out to prospective clients. Known as Kal-El internally, this will most likely turn into NVIDIA's Tegra 3 as and when it's ready to enter the consumer market. Tonight NVIDIA whetted our appetite for what's to come with a demo that can most fittingly be described as an exhibition of unadulterated computational muscle. A 2560 x 1440 stream was being decoded on a developmental device, scaled down to that slate's native 1366 x 768 resolution, and additionally displayed on a connected 30-inch, 2560 x 1600 monitor. Smartphone Recreates The Sensation Of Buttons On A Touchscreen. KDDI displayed a smartphone which accurately recreates the sensation of using physical buttons on a touch panel at Wireless Japan 2011.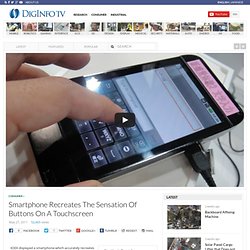 "Up until now there has only been the feeling that you are touching glass on a touch panel, making it hard to tell if you have selected a button, leaving a slight sense of unease, but this new touch smartphone recreates the clicking feeling when you press a button on the touch panel. Your finger feels a response when you input letters, so that you really get a feeling of assurance when you use it. " This function of feeling a click is achieved by a combining a vibration function and a pressure sensor in a Haptic touch panel developed by Kyocera. When you input letters, in addition to the visual feedback, you now get a feeling that you have pushed something and made it move, and KDDI believe that will result in faster input.
Samsung's lawyers demand to see the iPhone 5 and iPad 3 | This is my next... We always knew the Apple / Samsung lawsuit would produce some major fireworks, and Samsung just lit off a corker: the company filed a motion Friday night asking Apple to turn over the iPhone 5 and iPad 3 as part of the discovery process.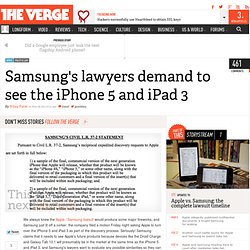 Seriously! Samsung claims that it needs to see Apple's future products because devices like the Droid Charge and Galaxy Tab 10.1 will presumably be in the market at the same time as the iPhone 5 and iPad 3, and Samsung's lawyers want to evaluate any possible similarities so they can prepare for further potential legal action from Apple.
---