Mobile Platforms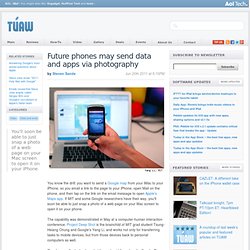 You know the drill: you want to send a Google map from your iMac to your iPhone, so you email a link to the page to your iPhone, open Mail on the phone, and then tap on the link on the email message to open Apple's Maps app. If MIT and some Google researchers have their way, you'll soon be able to just snap a photo of a web page on your Mac screen to open it on your phone.
Future phones may send data and apps via photography
The Nielsen Company on Friday released its latest findings regarding smartphone data usage and as expected, data consumption continued to increase at an explosive pace in the first quarter of 2011. In the same quarter last year, the average smartphone user consumed 230MB of data on their device each month. Last quarter, that number shot up 89% to 435MB.
Smartphone data usage jumps 89% in the U.S., Android users still biggest gluttons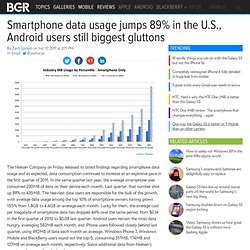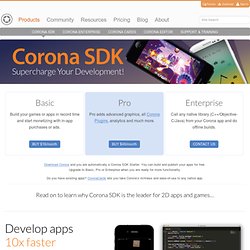 BasicBuild your games or apps in record time and start monetizing with in-app purchases or ads.BUY $16/monthProPro adds advanced graphics, all Corona Plugins, analytics and much more.BUY $49/monthEnterpriseCall any native library (C++/Objective-C/Java) from your Corona app and do offline builds.LEARN MORE Download Corona and you are automatically a Corona SDK Starter. You can build and publish your apps for free.Upgrade to Basic, Pro or Enterprise when you are ready for more functionality.
Analytics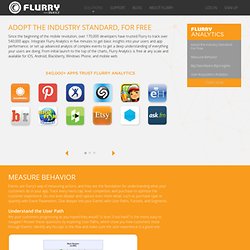 Flurry Analytics isn't just free of charge. It's professional grade. Since its launch in 2008, Flurry has continuously added cutting-edge features and extensively scaled the big-data platform upon which the service is built.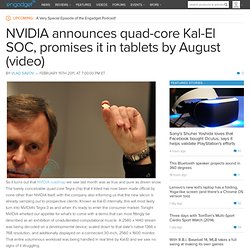 So it turns out that NVIDIA roadmap we saw last month was as true and pure as driven snow.
NVIDIA announces quad-core Kal-El SOC, promises it in tablets by August (video)
Smartphone Recreates The Sensation Of Buttons On A Touchscreen
KDDI displayed a smartphone which accurately recreates the sensation of using physical buttons on a touch panel at Wireless Japan 2011. "Up until now there has only been the feeling that you are touching glass on a touch panel, making it hard to tell if you have selected a button, leaving a slight sense of unease, but this new touch smartphone recreates the clicking feeling when you press a button on the touch panel.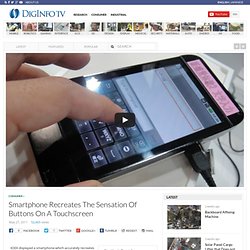 Samsung's lawyers demand to see the iPhone 5 and iPad 3 | This is my next...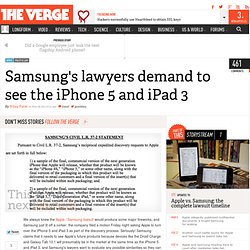 We always knew the Apple / Samsung lawsuit would produce some major fireworks, and Samsung just lit off a corker: the company filed a motion Friday night asking Apple to turn over the iPhone 5 and iPad 3 as part of the discovery process. Seriously! Samsung claims that it needs to see Apple's future products because devices like the Droid Charge and Galaxy Tab 10.1 will presumably be in the market at the same time as the iPhone 5 and iPad 3, and Samsung's lawyers want to evaluate any possible similarities so they can prepare for further potential legal action from Apple.