Linguistics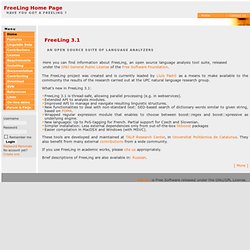 FreeLing 3.1 An Open Source Suite of Language Analyzers The FreeLing project was created and is currently leaded by Lluís Padró as a means to make available to the community the results of the research carried out at the UPC natural language research group. What's new in FreeLing 3.1: FreeLing 3.1 is thread-safe, allowing parallel processing (e.g. in webservices).Extended API to analysis modules.Improved API to manage and navigate resulting linguistic structures.New functionalities to deal with non-standard text: SED-based search of dictionary words similar to given string, based on FOMA.Wrapped regular expression module that enables to choose between boost::regex and boost::xpressive as underlying engine.New languages: Up to PoS-tagging for French. Partial support for Czech and Slovenian.Simpler installation: Less external dependencies only from out-of-the-box libboost packagesEasier compilation in MacOSX and Windows (with MSVC).
home - FreeLing Home Page
What is Matxin and who is developing it Matxin is one of the two open-source machine translation engines being developed inside the OpenTrad project; Matxin is designed to translate between different kind of languages (see Documentation below). The OpenTrad consortium is led by Eleka Ingeniaritza Linguistikoa. Linguistic information for the translation from Spanish and Basque (es-eu) is included.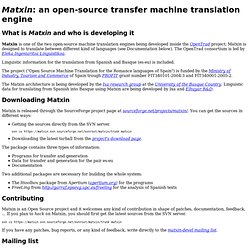 Matxin: an open-source shallow-transfer machine translation engine and toolbox
Opentrad, machine traslation Menú ¿Necesitas traducir un documento?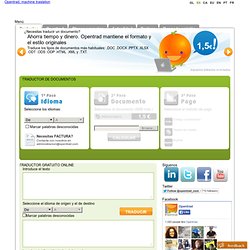 Traductor Opentrad - Primer traductor en código abierto de textos y documentos