Viajes
Trabber
Booking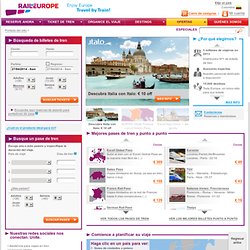 ¿Dónde puedo viajar? Si le interesa visitar España, un destino deseado por muchos colombianos, le sugerimos que se suba a bordo del AVE, el "tren pájaro" de Renfe, que le proporcionará una experiencia sin parangón de velocidad y comodidad. ¿Se pregunta qué más podemos hacer por usted? Sencillamente, poner a su alcance los mejores trenes de Europa, TGV, Eurostar, Renfe, Eurail o Thalys, además de comercializar trenes panorámicos, regionales o nocturnos.
Rail Europe
"We were surprised how easy it was to get from one country to the next..." Brett Howard & Tanya Hill, Brisbane, Australia Traveled with the Eurail Global Pass. "We had the best holiday ever – great views from the train and the freedom to change travel plans on the go. We were surprised how easy it was to get from one country to the next with Eurail. We got to meet the locals and travelers from all over the world. Unforgettable!"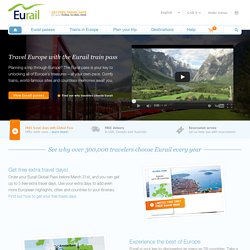 Vuelos Baratos
Por favor, ingrese un lugar de retiro. La ciudad de alquiler no es válida. Por favor, ingrese un lugar de devolución.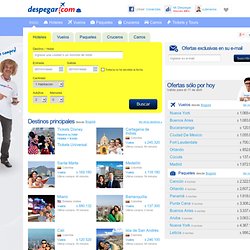 Despegar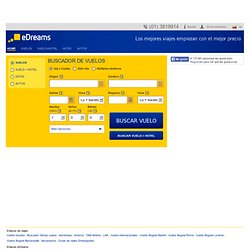 Edreams
Estamos buscando para las fechas seleccionadas: Buscando... Aegean Airlines|Aer Lingus|Aigle Azur|Air Arabia Maroc|Air Berlin|Air Corsica|Air Europa|Air Italy|Air One|American Airlines|Blue Air|Blue Panorama|Brussels Airlines|Easyjet|Emirates|Germanwings|Jetairfly|Jetstar|Lan|Lot|Lufthansa|Meridiana|Monarch|Norwegian Air|Pegasus Airlines|Qatar|Renfe|Royal Air Maroc|Ryanair|SAS|Swiss Airlines|TAP|Transavia|Tunis Air|Turkish Airlines|United Airlines|US Airways|Volotea|Vueling|Wizz Air|Vietnam Airlines|Tarom|Finnair|TAM|Etihad|Virgin Atlantic Concorde Hotels|Best Western|Radisson Edwardian|Sol Melia Hotels|Mandarin Oriental|Derby Hotels Collection|Westin Hoteles|Hesperia|Le Meridien Hotels & Resorts|Maritim Hotels|The Ritz-Carlton Hotels|NH Hoteles|Starwood Hotels|Ibis Hotels|Sheraton Hotels & Resorts|Vincci Hotels|Westin Hotels & Resorts|Sokos Hotels|Occidental Hotels & Resorts|Marriot Hotels|Hoteles Silken|St.