Mining
Americas | Global Mining News | Mining Research | Mining Companies | MiningWeekly.com
Higher grade resources news
Noticias de Minería en América Latina - Business News Americas
Everything Gold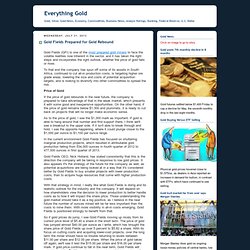 Gold Fields (GFI) is one of the most prepared gold miners to face the volatile realities now inherent in the sector, and it has taken the right steps and incorporates the right outlook, whether the price of gold falls or rises. To that end the company has spun off some of its assets in South Africa, continued to cut all-in production costs, is targeting higher ore grade areas, lowering the size and costs of potential acquisition targets, and is looking to diversify into other commodities to spread the risk. Price of Gold If the price of gold rebounds in the near future, the company is prepared to take advantage of that in the weak market, which presents it with some good and inexpensive opportunities.
Gold Investing News: Gold Price, Gold Investing, Gold Exploration & Development
Gold rose 0.1 percent or $1.30 to $1,303.60 an ounce on Wednesday, according to Reuters. While the metal is still feeling the pressure of factors such as slowing demand, the situation in Ukraine has increased investor appetite for a low-risk commodity. Dr. Jeffrey Lewis, editor and publisher of Silver-Coin-Investor.com, published an article in which he questions the silver and gold price predictions from analysts at large investment banks, commenting that such outlooks "become focal points for a sector and often seem to carry with them some form of self fulfilling prophecy."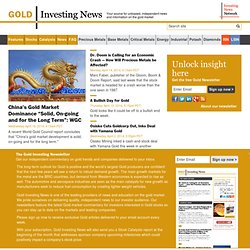 Streetwise Expert Interviews Salman Partners' Raymond Goldie: Copper Is Pathological and Suffers from SAD, but It Has Value Dr. Copper may be in a supercycle, but there are serious problems. In this interview with The Gold Report, Salman Partners' Vice President of Commodity Economics Raymond Goldie explains why even though the base metal acts pathologically and has a bad case of seasonal affective disorder, these six equities are priced below their intrinsic value. (4/16/14) More >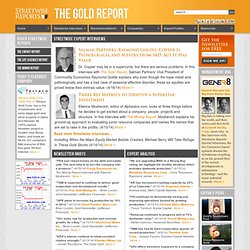 Gold Report: investment coverage of gold and other precious metals.
Stock Market Quotes Business News Financial News investor news investors - Home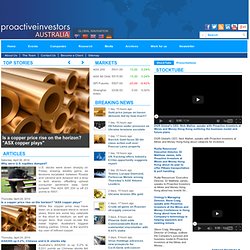 Saturday, April 05, 2014 Wall Street hits a downer, jobs report jabs The big economic news Friday was the jobs data from the Labor Department, which reported that the U.S. economy added 192,000 jobs in March, below consensus estimates for 206,000. Improving weather left economists with high expectations for last month that weren't met. Friday, April 04, 2014 Australian equities motor in afternoon trade The miners were the driving force in a late surge on the ASX today, which had the All Ords closing 0.2% firmer at 5248.6 points - its high of the day. All eyes though are on the U.S. monthly jobs report coming out tomorrow (Friday U.S. time). In the pre-open markets the Dow-mini is up 13 points to 16,514.