Cloud Stockage Fichier en ligne
Migration vers le Cloud : applications et stockage en ligne. Réelle révolution informatique, le Cloud computing offre aux entreprises l'opportunité de réaliser des économies et simplifier leur infrastructure informatique, tout en gagnant en productivité.
La migration vers le Cloud reste pour autant complexe ; il faut choisir une solution adaptée à la stratégie métier, performante et sécurisée. Pourquoi les entreprises adoptent le Cloud ? Disque virtuel - toutbox.fr. All your content 100% alive. Store all your files online – hubiC.com. Ubuntu One. Ubuntu One est un service de stockage et partage de fichiers en ligne, lancé par l'éditeur Canonical.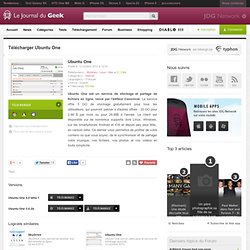 Le service offre 5 GO de stockage gratuitement pour tous les utilisateurs, qui pourront passer à d'autres offres : 20 GO pour 2,99 $ par mois ou pour 29,99$ à l'année. Le client est disponible sur de nombreux supports dont Linux, Windows, sur les smartphones Android et iOS et depuis peu pour Mac, en version bêta. Ce dernier vous permettra de profiter de votre contenu où que vous soyez, de le synchroniser et de partager votre musique, vos fichiers, vos photos et vos vidéos en toute simplicité. Cubby.com. Secure Cloud Storage - Backup. Sync. Share. Access Everywhere. HubiC - Cloud NAS.
Automate your Dropbox. La Vie d'Après | Héritage numérique, coffre-fort, sauvegarde de souvenirs et messages post mortem, Otixo Access all your online files. Otixo blog. SideCLOUDload: Send files from a url to "the cloud" without downloading. Fetch.io | Cloud Storage & Media, supports RapidShare, MegaUpload, MediaFire, BitTorrent, and more.
Cloud Drive: Learn More. Box.net | Online file sharing, content management, collaboration. Windows Live Mesh 2011. Online Backup - Memopal. Upload, sync, host, and share files for free - Uploadingit. CX.com | 10 GB of Free File Storage – Sync, Store, Share All In The Cloud. Minus - Share simply. Drawpr.com | drop, share, draw - the easy way to share files.
Addie. Sauvegarde des fichiers en ligne. Il est certainement plus pratique de gérer et sauvegarder ses fichiers au même endroit et d'avoir un espace de stockage unique.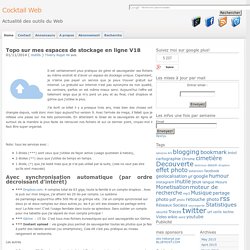 Cependant, je n'aime pas payer un service que je peux trouver gratuit sur internet. La gratuité sur internet n'est pas synonyme de non qualité, au contraire, parfois on est même mieux servi.
---