Leadership
Leadership Lessons from Jeff Bezos. What's the Latest Development?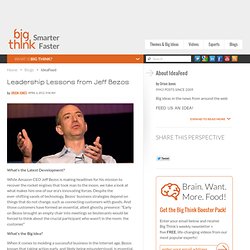 While Amazon CEO Jeff Bezos is making headlines for his mission to recover the rocket engines that took man to the moon, we take a look at what makes him one of our era's innovating forces. Despite the ever-shifting sands of technology, Bezos' business strategies depend on things that do not change, such as connecting customers with goods. Listening, Leadership, and Change | Education Recoded. What trait will serve you the most as a school leader?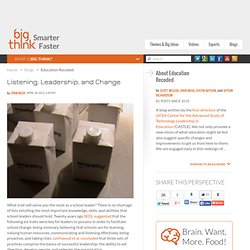 There is no shortage of lists extolling the most important knowledge, skills, and abilities that school leaders should hold. Twenty years ago SEDL suggested that the following six traits were key for leaders to possess in order to facilitate school change: being visionary, believing that schools are for learning, valuing human resources, communicating and listening effectively, being proactive, and taking risks. Leithwood et al. concluded that three sets of practices comprise the basics of successful leadership: the ability to set direction, develop people, and redesign the organization.
But which among these is the "gateway" trait? 10 mental traits of truly innovative leaders. Photo via Bigstock Ever since I was young I've always loved thinking of ways to fix things, build products and make money.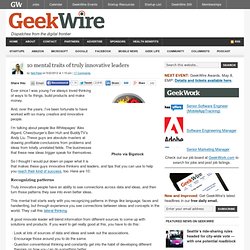 And, over the years, I've been fortunate to have worked with so many creative and innovative people. I'm talking about people like Whitepages' Alex Algard, Cheezburger's Ben Huh and BuddyTV's Andy Liu. These guys are absolute masters at drawing profitable conclusions from problems and ideas from totally unrelated fields. Leadership Lessons from General Eisenhower: How to Build Morale in Those You Lead. Dwight D.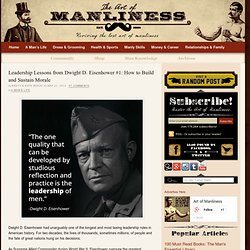 Eisenhower had unarguably one of the longest and most taxing leadership roles in American history. For two decades, the lives of thousands, sometimes millions, of people and the fate of great nations hung on his decisions. Six Books on Leadership Worth Actually Reading. Business Model Generation: A Handbook for Visionaries, Game Changers, and Challengers Alexander Osterwalder and Yves Pigneur (Wiley; $34.95) This manic collection of typography, photographs, sketches and graphs is actually a crowdsourced collection of expert advice designed to help you disrupt your industry.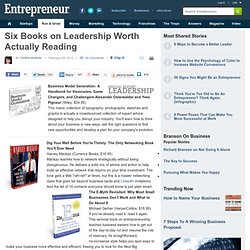 You'll learn how to think about your business in new ways, ask the right questions to find new opportunities and develop a plan for your company's evolution. Dig Your Well Before You're Thirsty: The Only Networking Book You'll Ever Need Harvey Mackay (Currency Books; $16.95) Mackay teaches how to network strategically without being disingenuous. He delivers a solid mix of advice and action to help build an effective network that returns on your time investment.
The tone gets a little "rah-rah" at times, but this is a master networking class that goes far beyond business cards and LinkedIn invitations. And the list of 16 contacts everyone should know is just plain smart. 14 Books on Leadership Every Young Entrepreneur Should Read. There are a great many business books out there on everything from marketing and brand building to stories of the life and times of some great business person.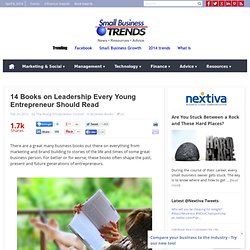 For better or for worse, these books often shape the past, present and future generations of entrepreneurs. We asked members of the Young Entrepreneur Council (YEC), an invitation-only nonprofit organization comprised of the country's most promising young entrepreneurs, this question:
---