Juan
Juan Manuel
RPG
Tech. Hacking. p2p. Software. Ubuntu. Misc. Free Online Course Materials | Courses.
Google+ Reddit.com: what's new online! API - GitHub. Resources Rules We're happy to have API clients, crawlers, scrapers, and Greasemonkey scripts, but they have to obey some rules: Make no more than thirty requests per minute.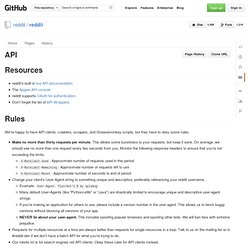 This allows some burstiness to your requests, but keep it sane. WikiLeaks.
Programming. Video Game Development. Design. Entertainment. Geekiness.
---
paulcrimmins Nov 11 2011

Great selection with plenty of variety. I especially liked the RB Whitaker's tutorials - well presented and of excellent quality.

frenetic Dec 22 2010

Thank you for your pearltrees! They are really interesting!
---