When I Have Time
Hack Your Wii, Eat Well on a Budget, and Survive Your Less-than-Perfect Job
Series Circuits
OK, you should know that electricity needs a completed circuit to flow, or a loop if you will. however it doesn't stop there, there are two types of circuit you will need to know and those are Series and Parallel.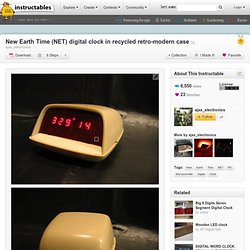 Ever get confused by GMT, or just wish you had a cooler way to keep track of time?
New Earth Time (NET) digital clock in recycled retro-modern case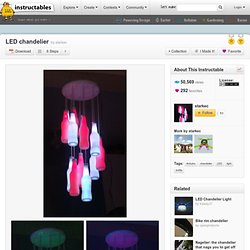 1. Tri-color common anode LED`s X 12 2. 2 pair (four core) phone wire 4-5m 3.
LED chandelier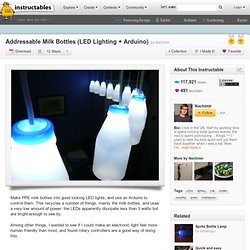 To manufacture the lights themselves, you will need: PPE milk bottles Sheet of 3mm clear acrylic 2 core electrical cable (or speaker wire will do - it can be fairly light duty since it will only take about 12v and very little current, depending on how you design your circuit).
Addressable Milk Bottles (LED Lighting + Arduino)
Arduino Laser Tag - Duino Tag
Overview Key parts of a duino tagger: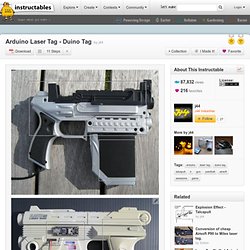 This instructable will show you how to construct a laser tripwire that can twitter and grab an image from a webcam, as well as execute any command you can put in a bash script.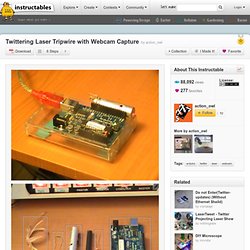 Twittering Laser Tripwire with Webcam Capture
Many of the coolest DIY projects we feature require a special electronics board called an Arduino, and if you've been putting off learning how it works, now's the time to learn—this step-by-step comic makes it super easy. We've mentioned one site that helps you get started with Arduino building, but if reading through documentation isn't your thing, this comic presents everything in an easy-to-follow fashion, perfect for beginners.
The "Introduction to Arduino" Comic Makes It Easy to Get Started with Electronics Hacking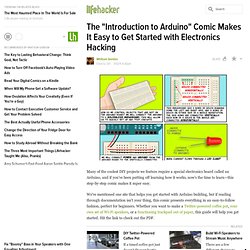 Open Security Screws with a Rotary Tool
While there are plenty of great products on the market, buying what's available to you means playing by the rules of the manufacturers.
Top 10 Rule-Breaking Projects, Upgrades, and Solutions That Are Better Than Off-the-Shelf Products
You won't find a better media center than the open-source XBMC , but most people don't have the space or desire to plug a noisy PC into their TV.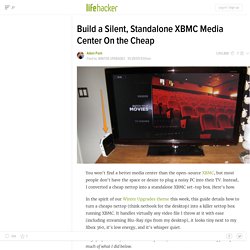 Of all the great DIY projects at this year's Maker Faire , the one project that really caught my eye involved converting a regular old $60 router into a powerful, highly configurable $600 router. The router has an interesting history , but all you really need to know is that the special sauce lies in embedding Linux in your router. I found this project especially attractive because: 1) It's easy, and 2) it's totally free.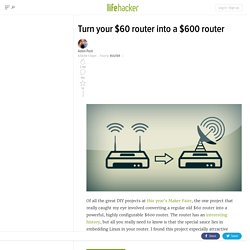 Don't have five thousand dollars for a pair of Nike Mags ? This instructables shows you how to make one yourself. If you don't quite have these parts laying around, or the time or energy to put everything together, the creators actually made a Kickstarter page for bringing the shoes to market.
Make Your Own Auto-Lacing Back to the Future Shoes
Ambient light is a product that straps a few LEDs to the back of your monitor or TV, replicating the colors on your screen on the wall behind it for a more immersive experience. Here's how to make your own ambient light system on the cheap.
Make Your Own Ambient Lighting System for Your Computer or Home Theater
This Hands Free Water Station is Perfect for Camping, Backyard Playgrounds
If you're out camping or the kids have been out back playing in the mud and want an easy way to wash up or dispense water without getting the bottle dirty, this hands-free water station does the trick.
Build Your Own Grid-It Tech Organizer in a Vintage Book
Grid-It organizers are versatile gadget containers we're really fond of , but this DIY version wraps that modern organizing goodness into a vintage book for a really charming old-meets-new case.
Make Your Own Grappling Hook Launcher for Extreme Tree Climbing, Crime Fighting
Build Your Own Portable Wind Turbine To Power Gadgets When Camping
The Pocket Survival Kit Can Signal for Help and Light a Fire, Is Still Small Enough to Fit Anywhere
Hack a Stereo Jack Into a Bluetooth Headset for Wireless Streaming
How to Turn Your Computer into a Retro Game Arcade
Build a DIY Photography Ring Light from an Ikea Chandelier
Make a Custom Form-Fitting Case for Your Tools or Precious Gear with Foam Filler
DIY Lightweight Backpacking Cooler
A Katamari Desk Organizer You Make Yourself
Build Your Own Rainfall Shower Head from an Old CD Spindle
DIY Picnic Suitcase Transforms into a Table with Speaker System
Rollerblading In These Salt Mine Tunnels Is Like Entering the Death Star in Return of the Jedi
Build Wi-Fi Speakers to Stream Music Anywhere
Make a Secure, Lock-Free Box for Your Prized Possessions
How to Ergonomically Optimize Your Workspace
Minty Boost! - USB charger for your gadgets