Maitenance
Earlier this week we asked you to share the free apps you're most thankful for , and you came through with thousands of votes for apps covering the desktop, mobile phone, and devices in between.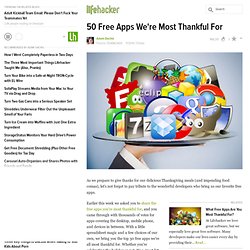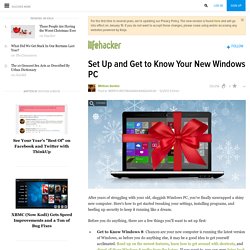 Set Up and Get to Know Your New Windows PC
After years of struggling with your old, sluggish Windows PC, you've finally unwrapped a shiny new computer. Here's how to get started tweaking your settings, installing programs, and beefing up security to keep it running like a dream. Before you do anything, there are a few things you'll want to set up first: Get to Know Windows 8 : Chances are your new computer is running the latest version of Windows, so before you do anything else, it may be a good idea to get yourself acclimated. Read up on the newest features , learn how to get around with shortcuts , and dispel all those Windows 8 myths from the haters .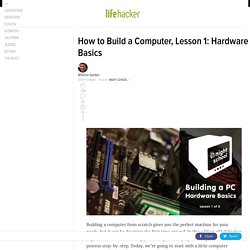 Building a computer from scratch gives you the perfect machine for your needs, but it can be daunting the first time around. In this edition of Lifehacker Night School, we'll be taking you through the buying, building, and installation process step-by-step. Today, we're going to start with a little computer hardware basics.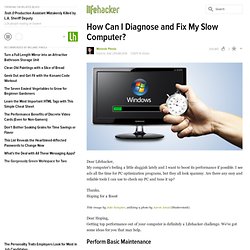 Dear Lifehacker, My computer's feeling a little sluggish lately and I want to boost its performance if possible. I see ads all the time for PC optimization programs, but they all look spammy. Are there any easy and reliable tools I can use to check my PC and tune it up? Thanks, Hoping for a Boost
How Can I Diagnose and Fix My Slow Computer?
Fresh Diagnose is a utility designed to analyze and benchmark your computer system.
Fresh Diagnose - Free diagnostic software: analyze and benchmark your computer system. Test your pentium 4, pentium iii, pentium ii, pentium 5, pentium iv, pentium processor, intel pentium, pentium 4 processor, intel pentium 4, pentium 2, pentium pro, pen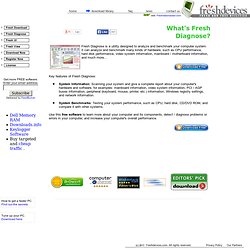 Computers are easier to use and more dependable with each new generation of hardware and operating system update, but that doesn't mean they're problem-free. Here's a look at the five most popular tools for troubleshooting your computer problems. Photo a composite of images by jimrhoda and Axonite . Earlier this week we asked you to share your favorite diagnostic tool . Below, we've rounded up the top five answers, and now we're back to highlight the most popular computer diagnostic tools among Lifehacker readers. SIW (Windows, Free)
Five Best Computer Diagnostic Tools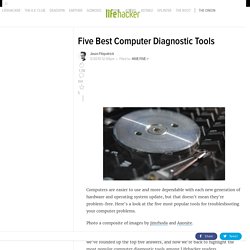 Requirements: OS X 10.5, 10.6, 10.7, 10.8 Java Installed G4, G5, Intel CPU, 1GB+ memory, 250MB+ free drive space Windows XP, Vista, 7, 8, Server 2008/2003 1GHZ+ CPU, 1GB+ memory, 250MB+ free drive space
Free Data Backup Software - CrashPlan - Download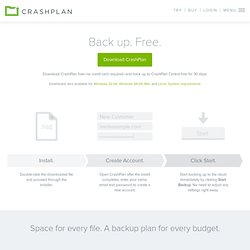 Windows: Hard drive benchmarks are important to ensure not only that your new drive is performing as well as it should, but also to make sure that disk fragmentation is not impacting your performance. DiskMark is a freeware Windows utility that allows you to quickly measure your hard drive benchmark stats. After installing the utility you select a hard drive, choose a amount of space to measure, (1gb is standard) and decide if you want to customize the amounts of read and write rounds and runs. A 1gb test takes less than five minutes and gives you a useful benchmark.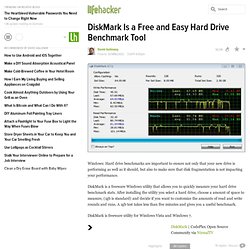 DiskMark Is a Free and Easy Hard Drive Benchmark Tool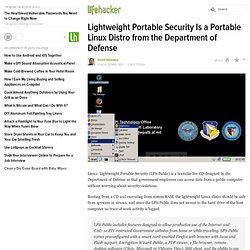 Lightweight Portable Security Is a Portable Linux Distro from the Department of Defense
Linux: Lightweight Portable Security (LPS-Public) is a bootable live CD designed by the Department of Defense so that government employees can access data from a public computer without worrying about security violations. Booting from a CD and executing from system RAM, the lightweight Linux distro should be safe from spyware or viruses, and since the LPS-Public does not mount to the hard drive of the host computer no trace of work activity is logged. LPS-Public includes features designed to allow productive use of the Internet and CAC- or PIV-restricted Government websites from home or while traveling. LPS-Public comes preconfigured with a smart card-enabled Firefox web browser with Java and Flash support, Encryption Wizard-Public, a PDF viewer, a file browser, remote desktop software (Citrix, Microsoft or VMware View), SSH client, and the ability to use USB flash drives.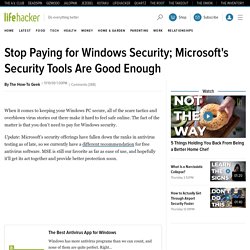 When it comes to keeping your Windows PC secure, all of the scare tactics and overblown virus stories out there make it hard to feel safe online. The fact of the matter is that you don't need to pay for Windows security. Update : Microsoft's security offerings have fallen down the ranks in antivirus testing as of late, so we currently have a different recommendation for free antivirus software.
Stop Paying for Windows Security; Microsoft's Security Tools Are Good Enough
Dear Lifehacker, You guys recently talked about Mac Maintenance , but I'm frankly still a little lost when it comes to Windows. Should I be defragging, cleaning my registry, and running programs like CCleaner? What do I actually need to do to maintain my Windows PC?
What Kind of Maintenance Do I Need to Do on My Windows PC?