Maitenance
Free Remote Access and Remote Desktop Sharing over the Internet. 50 Free Apps We're Most Thankful For. It's like Lifehacker knows I don't use Dropbox and is goign to keep hammering me until I start.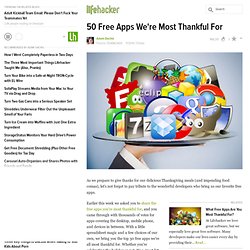 @SmarchHare: Yes, that is the plan :). This time it's your fellow readers, though. @SmarchHare: using a computer or smartphone without running Dropbox is like winning a lottery and forgetting to pick up the check. It's free, it always works and there is next to no learning curve. Set Up and Get to Know Your New Windows PC. What's your guys thoughts on simply reinstalling the Windows OS as soon as you get your new computer?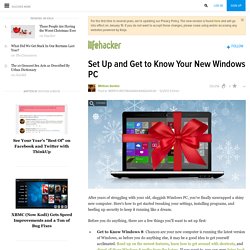 It seems like when I install my OS it doesn't have all that bloatware and feels much more fresher than the day I first used it. Also, since Windows 7 installing the OS is pretty fast and you don't even have to worry about most of your drivers as Windows handles it for you. Just wondering if it'd be easier to boot up the computer once, then reinstall the OS for a truly fresh and new computer rather than dealing with uninstalling a bunch of bloatware and etc. @Manly McBeeferton: I almost always do this, but it's just not practical for most people, so I went with the "use Revo Uninstaller" advice instead. How to Build a Computer from Scratch, Lesson 1: Hardware Basics. How Can I Diagnose and Fix My Slow Computer?
Fresh Diagnose - Free diagnostic software: analyze and benchmark your computer system. Test your pentium 4, pentium iii, pentium ii, pentium 5, pentium iv, pentium processor, intel pentium, pentium 4 processor, intel pentium 4, pentium 2, pentium pro, pen. Fresh Diagnose is a utility designed to analyze and benchmark your computer system.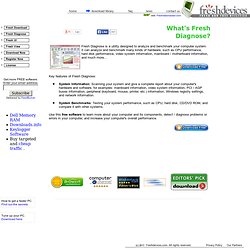 It can analyze and benchmark many kinds of hardware, such as CPU performance, hard disk performance, video system information, mainboard / motherboard information, and much more... Key features of Fresh Diagnose: System Information: Scanning your system and give a complete report about your computer's hardware and software, for examples: mainboard information, video system information, PCI / AGP buses information, peripheral (keyboard, mouse, printer, etc.) information, Windows registry settings, and network information.System Benchmarks: Testing your system performance, such as CPU, hard disk, CD/DVD ROM, and compare it with other systems.
Use this free software to learn more about your computer and its components, detect / diagnose problems or errors in your computer, and increase your computer's overall performance. Five Best Computer Diagnostic Tools. They're all sort of different to be compared to each other.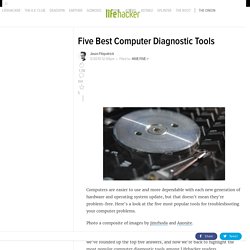 I mean, if my OS is still functioning, then I would most likely use Google to search for the problem and its solution (as I have already done before, and solved the problem). If the OS is not functioning (Windows XP in my case), I wouldn't even be able to use SIW. And if don't have another way to access Google, through another computer, PDA etc., then I would have to start trying system restore points and boot options. And ultimately, boot from a Live CD.
In this case, I would probably choose BartPE (which I have) or UBCD4Win, as it gives the familiar Windows interface (although I also do have Ubuntu on a live CD). Soluto – Anti-Frustration Software. Crappy PC No More! | The PC Decrapifier. Free Data Backup Software - CrashPlan - Download. DiskMark Is a Free and Easy Hard Drive Benchmark Tool. Lightweight Portable Security Is a Portable Linux Distro from the Department of Defense. I'm not an expect at all the different distro's, but I think this one is designed to just be run as a live CD, and the idea is it has all the main pieces of software you would need there without installing, and then to be able to unplug and then not have to worry about leaving a trace on that computer.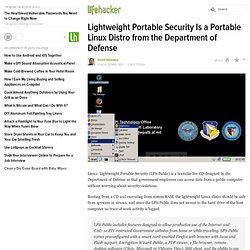 Yes, but EVERY LiveCD should theoretically leave no trace unless you directly attempt to modify the hard drives of the host machine. Hence my confusion :) The DOD backdoors that were added... Stop Paying for Windows Security; Microsoft's Security Tools Are Good Enough. What Kind of Maintenance Do I Need to Do on My Windows PC? Dear Lifehacker, You guys recently talked about Mac Maintenance, but I'm frankly still a little lost when it comes to Windows.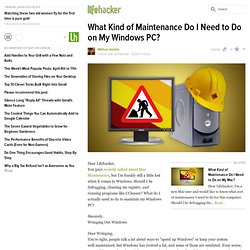 Should I be defragging, cleaning my registry, and running programs like CCleaner? What do I actually need to do to maintain my Windows PC?
---