02Bibliotecas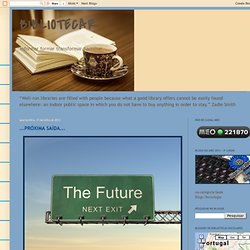 BIBLIOTECAR
Em junho de 2008 o 1º post anunciava o objetivo deste blogue: Este pretende ser um espaço em que vamos tecer uma rede de saberes e experiências para que as nossas competências enquanto 'professores-bibliotecários' saiam reforçadas. Enquanto coordenadora interconcelhia procurarei partilhar documentos e sites que sejam referência para o nosso trabalho. Não esperem que sejam sempre documentos 'sisudos' porque o bom-humor também é muito saudável e ensina-nos muito! Do vosso lado, espera-se o comentário oportuno, a sugestão pertinente, a partilha do que fazem. Ora vamos lá bibliotecar!!
biblioblogs - Mapa dos blogues das bibliotecas escolares galegas  * Pódese ampliar a imaxe [+] pero as localizaci
Bright Ideas ReadTogether.co.uk
Assim, durante a Semana da Leitura, que decorreu em março, circulou pelos alunos do 3ºciclo, professores e assistente operacionais o texto que se segue, iniciado pela professora bibliotecária; cada pessoa participante só podia ler a última linha do texto já escrito e dar-lhe continuidade. Cada parágrafo pertence a pessoas diferentes. Hoje acordei peixe.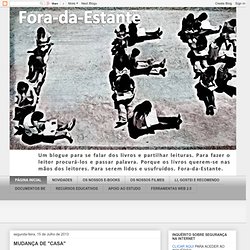 Fora-da-estante
Last week I presented at the IB Asia Pacific Conference to an audience that was quite different to the audience I usually present to. This audience was made up of School Principals, PYP, MYP & DP co-ordinators, teachers of classes and subjects across the K-13 range, and a few school librarians. I was way out of my comfort zone, and felt highly stressed in the build up.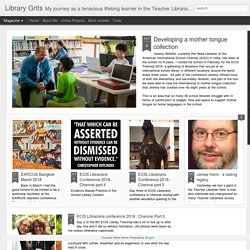 Library Grits