Photoshop tutorials
Photography Tips & Tutorials. Photoshop Layers tricks and shortcuts. When you are so used to an application you sometimes don't think about its tricks and shortcuts anymore because you are so used to them.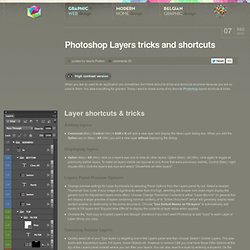 You take everything for granted. Today I want to share some of my favorite Photoshop layers shortcuts & tricks. Scripts Page. Sorry, technical support is not available for my scripts Please report any web-related problems by sending an email to the address listed below.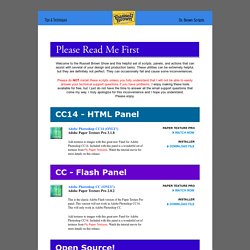 Sorry for the inconvenience, but I will not have the chance to respond to questions relating to these scripts. Please only use them if you feel confident that you can remove them if something should go wrong. Top Nondestructive Photoshop Techniques. Photoshop Etiquette. Photoshop Secret Shortcuts. It is proven that by using software shortcuts can boost up productivity.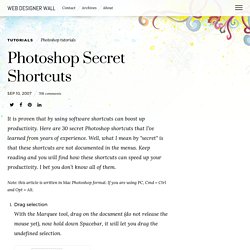 Here are 30 secret Photoshop shortcuts that I've learned from years of experience. Well, what I mean by "secret" is that these shortcuts are not documented in the menus. Mastering Photoshop: Unknown Tricks and Time-Savers. Advertisement We all have shortcuts that are essential to our daily workflow.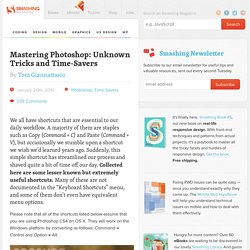 A majority of them are staples such as Copy (Command + C) and Paste (Command + V), but occasionally we stumble upon a shortcut we wish we'd learned years ago. Compositing in Adobe Photoshop: Time-Saving Tips. Advertisement Compositing is a skill and process that spans the entire spectrum of creative industries.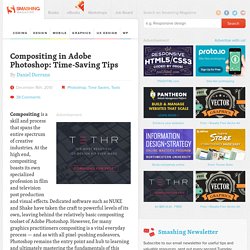 At the high end, compositing boasts its own specialized profession in film and television post production and visual effects. Dedicated software such as NUKE and Shake have taken the craft to powerful levels of its own, leaving behind the relatively basic compositing toolset of Adobe Photoshop. However, for many graphics practitioners compositing is a vital everyday process — and as with all pixel-pushing endeavors, Photoshop remains the entry point and hub to learning and ultimately mastering the fundamentals of this important skill. In this article, I'll share some of my own time-saving tips for compositing in Photoshop.
Useful Photoshop Tips And Tricks For Photo Retouching. Advertisement When it comes to designing in Photoshop, there is a myriad of ways one could use to achieve a certain result, especially when it comes to photo retouching.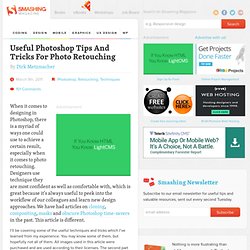 Designers use technique they are most confident as well as comfortable with, which is great because it's always useful to peek into the workflow of our colleagues and learn new design approaches. We have had articles on cloning1, compositing2, masks3 and obscure Photoshop time-savers4 in the past. This article is different. I'll be covering some of the useful techniques and tricks which I've learned from my experience. Creating Retro Folded Typography Using Photoshop. In this Photoshop tutorial, we're going to create retro-looking text that seems like it's constructed using folded strips of paper.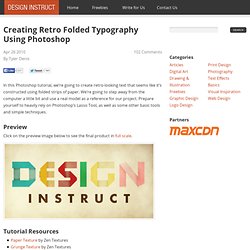 We're going to step away from the computer a little bit and use a real model as a reference for our project. Prepare yourself to heavily rely on Photoshop's Lasso Tool, as well as some other basic tools and simple techniques. Preview Click on the preview image below to see the final product in full scale. Useful Adobe Photoshop Techniques, Tutorials and Tools. Advertisement As web designers, we always have something new to learn.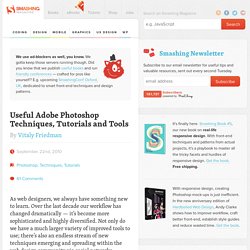 Over the last decade our workflow has changed dramatically — it's become more sophisticated and highly diversified. Not only do we have a much larger variety of improved tools to use; there's also an endless stream of new techniques emerging and spreading within the web design community via social networks.
And this is where the opportunity to learn new useful, practical approaches and techniques comes in. We can learn by exploring the different design approaches other designers have taken, when solving their problems and apply these approaches to our work to become more productive and skilled.
---