Healthcare
Jsreno : Fantastic story of #AdHoc coders ... Obamacare's Secret Success. Much of the Beltway establishment scoffed at the promise of cost savings.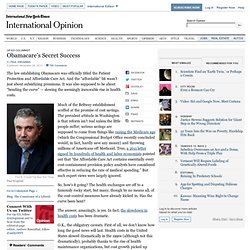 The prevalent attitude in Washington is that reform isn't real unless the little people suffer; serious savings are supposed to come from things like raising the Medicare age (which the Congressional Budget Office recently concluded would, in fact, hardly save any money) and throwing millions of Americans off Medicaid. True, a 2011 letter signed by hundreds of health and labor economists pointed out that "the Affordable Care Act contains essentially every cost-containment provision policy analysts have considered effective in reducing the rate of medical spending." But such expert views were largely ignored. Getting to the bottom of HealthCare.gov's flop. For the first time in history, a president has had to stand in the Rose Garden to apologize for a broken Web site.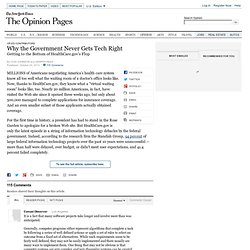 But HealthCare.gov is only the latest episode in a string of information technology debacles by the federal government. Indeed, according to the research firm the Standish Group, 94 percent of large federal information technology projects over the past 10 years were unsuccessful — more than half were delayed, over budget, or didn't meet user expectations, and 41.4 percent failed completely. For example, Sam.gov, a system for government contractors developed by I.B.M. that started in 2012, has cost taxpayers $181 million and is just now beginning to work as expected. Direct Project - home. HISPC-PET. Life as a Healthcare CIO. Nationwide Health Information Network | NHIN Watch. Health IT ONC. During National Minority Health Month, we acknowledge the potential for health information technology (health IT) – from electronic and personal health records to online communities to mobile applications – to transform health care and improve the health of racial and ethnic minorities.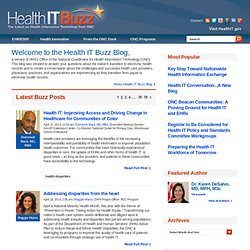 Lack of access to quality, preventive health care, cultural and linguistic barriers, and limited patient-provider communication are factors that aggravate health disparities. By increasing our investment in health IT policies and standards, we can help improve the quality of health care delivery and make it easier for patients and providers to communicate with each other – a huge step toward addressing the persistence of health disparities. Read Full Post. SLHIE. In March 2010, ONC completed the announcement of State Health Information (State HIE) Exchange Cooperative Agreement Program awardees.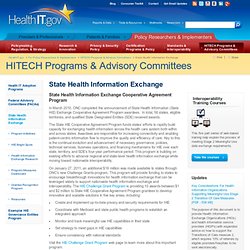 In total, 56 states, eligible territories, and qualified State Designated Entities (SDE) received awards. The State HIE Cooperative Agreement Program funds states' efforts to rapidly build capacity for exchanging health information across the health care system both within and across states. Chilmark Research.