Healthcare
Obamacare's Secret Success
Much of the Beltway establishment scoffed at the promise of cost savings. The prevalent attitude in Washington is that reform isn't real unless the little people suffer; serious savings are supposed to come from things like raising the Medicare age (which the Congressional Budget Office recently concluded would, in fact, hardly save any money) and throwing millions of Americans off Medicaid. True, a 2011 letter signed by hundreds of health and labor economists pointed out that "the Affordable Care Act contains essentially every cost-containment provision policy analysts have considered effective in reducing the rate of medical spending." But such expert views were largely ignored.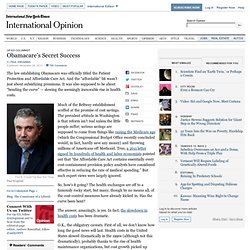 Getting to the bottom of HealthCare.gov's flop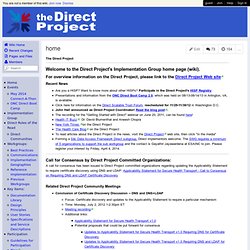 Direct Project - home
The Direct Project For overview information on the Direct Project, please link to the Direct Project Web site Recent News Are you a HISP? Want to know more about other HISPs?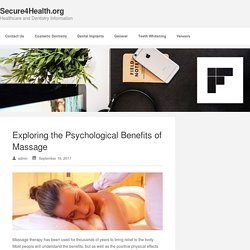 HISPC-PET
Welcome to the Health Information Security & Privacy Provider Education Toolkit designed especially for physicians and the healthcare community. We invite you to explore our Web site, learn more about electronic health information exchange, related privacy and security implications, earn free CME credits, ask questions, and get the tools and resources you need to safely and securely get connected ! It's Safe. Health information exchange has the potential to improve communications among health care providers, support efficient transmission of patient records and provide effective coordination of care. Sharing information through health information exchange can improve patient safety and enhance the quality of care. Use this powerful tool to help improve clinical decisions, coordinate care and avoid medical errors.
Life as a Healthcare CIO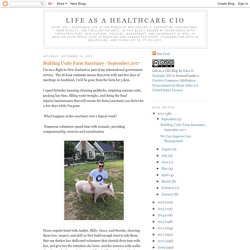 The March HIT Standards Committee focused on the Standards and Interoperability (S&I) Framework projects for 2014, an overview of the 2015 Certification Notice of Proposed Rulemaking, and a first review of the standards maturity for the proposed Meaningful Use Stage 3 criteria. Doug Fridsma presented the S&I update. Importantly, a new initiative has been launched to coordinate decision support and clinical quality measures as related activities.
Nationwide Health Information Network | NHIN Watch
Health IT ONC
SLHIE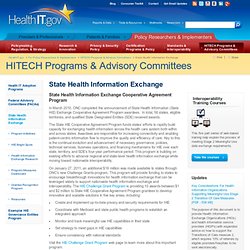 In March 2010, ONC completed the announcement of State Health Information (State HIE) Exchange Cooperative Agreement Program awardees. In total, 56 states, eligible territories, and qualified State Designated Entities (SDE) received awards. The State HIE Cooperative Agreement Program funds states' efforts to rapidly build capacity for exchanging health information across the health care system both within and across states.
Chilmark Research
This week, I read an article from February that provided an overview of the health IT infrastructure required for population health management (PHM). It had thorough examples and some nice graphical depictions of delivery systems and budding ACOs taking on the challenge of marrying encounter data from claims systems with clinical data from EHR to create "a 360 degree view of the patient." But two questions arose as I finished reading. First of all, the article was from February 2013.