iPads in Education
Home. 39 Sites For Using iPads in the Classroom. Pages - Menu This Blog Linked From Here Sites to Follow Friday, October 7, 2011 39 Sites For Using iPads in the Classroom.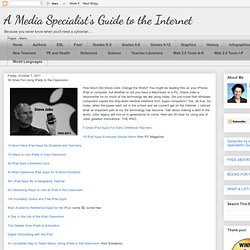 iPads in the Classroom. iPads in Schools. Home. iPads in the Classroom. After a year on the market, the iPad is still the hottest tablet around.
And students in Chicago Public Schools (CPS) have been lucky enough to use them in the classroom for an entire school year. Teachers at various CPS institutions are using the iPad to heighten student learning at all grade levels. Whether it's helping special education students "speak" to grocery store clerks on field trips, assisting high school physics students in "building" roller coasters to understand motion and energy, or conducting daily formative assessments to improve student performance, the iPad engages students — and according to experts, that's the most rewarding part.
"What we've found with the iPads as we've rolled this out is that having kids with a device such as the iPad in the classroom — within the curriculum — is very powerful," said CPS Technology Education Director John Connolly. The Study. My school is involved in a study with the University of Toronto.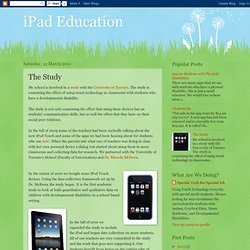 The study is examining the effect of using touch technology in classrooms with students who have a developmental disability. The study is not only examining the effect that using these devices has on students' communication skills, but as well the effect that they have on their social peer relations. In the fall of 2009 some of the teachers had been excitedly talking about the new iPod Touch and some of the apps we had been hearing about for students who use AAC.
When the parents saw what one of teachers was doing in class with her own personal device a dialog was started about using them in more classrooms and collecting data for research. We partnered with the University of Toronto's iSchool (Faculty of Information) and Dr. Grenoble NE5 Proposal. Apps in Education. iPads for Education | Education Apps. Doodle Buddy. I am constantly amazed with the level of instruction and innovation in the classroom at HCMS.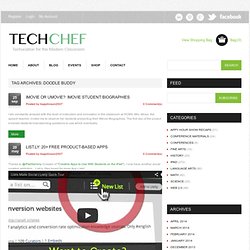 Mrs. Musci, the speech teacher, invited me to observe her students presenting their iMovie Biographies. The first day of the project involved students brainstorming questions to use which eventually More. Ipad2educate - App Evaluation. APPitic - 1,300+ EDUapps. Appsfortheclassroom - g. Doodle Buddy Examples. Doodle Buddy Doodle Buddy allows students to create drawings and paintings by moving their finger across the screen of any iDevice with this app.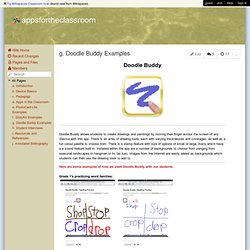 There is an array of drawing tools, each with varying thicknesses and coverages, as well as a full colour palette to choose from. There is a stamp feature with size of options of small or large, many which have a a sound feature built in. Installed within the app are a number of backgrounds to choose from (ranging from seasonal landscapes to hangman to tic tac toe). Classroom iPod touches & iPads: Dos and Don'ts. Do delete content.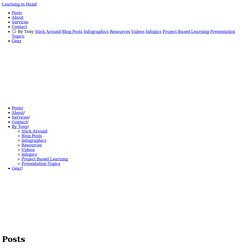 Since you are mirroring the computer's iTunes Library onto the iPods, deleting items from iTunes will delete them from the iPods. After you no longer have a need for a podcast, video, or audiobook, delete it so it is not taking up room and cluttering up the iPods. Chances are you want to use this content with a future class. If it's something you will use again, drag and drop it into a folder on your desktop. iPads for Education | Victoria, Australia.
Creating an iTunes App Store account without a credit card. Languages The iTunes Store, App Store, iBooks Store, and Mac App Store share the same Apple ID account.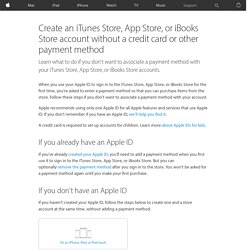 To create a new Apple ID for use on iTunes Store, App Store, iBooks Store, and Mac App Store without a credit card, follow the steps below. If you already have an Apple ID: Ipadlearning [licensed for non-commercial use only] / FrontPage. iPads In Education- Part 1. Blog. The iPads are finally set up and ready to go into the classrooms!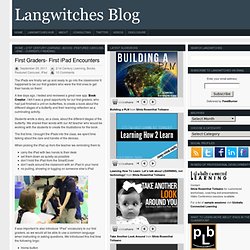 It happened to be our first graders who were the first ones to get their hands on them! A few days ago, I tested and reviewed a great new app: Book Creator.
---