Photography
Florida's most-blinged Camaro ZL1 brings out the haters in force. To paraphrase Rene Magritte, this is not a car.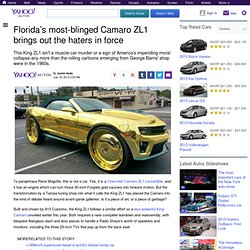 Yes, it is a Chevrolet Camaro ZL1 convertible, and it has an engine which can turn those 30-inch Forgiato gold saucers into forward motion. But the transformation by a Tampa tuning shop into what it calls the King ZL1 has placed the Camaro into the kind of debate heard around avant-garde galleries: Is it a piece of art, or a piece of garbage? Built and shown by 813 Customs, the King ZL1 follows a similar effort on a less-powerful King Camaro unveiled earlier this year. Both required a near-complete teardown and reassembly, with bespoke fiberglass dash and door pieces to handle a Radio Shack's worth of speakers and monitors, including the three 23-inch TVs that pop up from the back seat. That's one cracking motor! Brave owner parks his unique £1.6m Bugatti Veyron supercar made of PORCELAIN in Paris street. The 253 mph car drew a crowd after being spotted outside a Parisian hotel during its first sighting in Europe By Tom Gardner Published: 11:56 GMT, 20 April 2012 | Updated: 13:49 GMT, 20 April 2012 It must require nerves of steel to drive a £1.6million one-off porcelain supercar through Paris' notoriously congested streets, let alone parallel park it.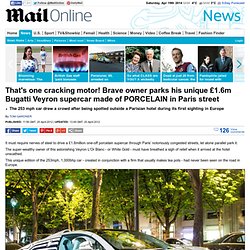 - StumbleUpon. Find Out Why This Could Be The Greatest Wedding Photo Of All Time | Badass Digest - StumbleUpon. Vote on FM365 Designs. These 50 Photos Will Blow you Away - StumbleUpon. Great news today: we will start a series of showcases that are meant to make the jaws drop!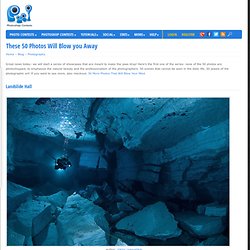 Here's the first one of the series: none of the 50 photos are photoshopped, to emphasize the natural beauty and the professionalism of the photographers. 50 scenes that cannot be seen in the daily life, 50 jewels of the photographic art! If you want to see more, also checkout: 50 More Photos That Will Blow Your Mind Landslide Hall Clouds on Fire. - StumbleUpon. 3040.1326212907.jpg (1024×702) p1070774r800te.jpg (800×600) 50e8f523e8e30e0fda3bcb7baaeb668c_l.jpg (1024×682) Img_0303-2_med.
---