School of Hard Knocks
Build and test your web idea without programming | LaunchBit
Published by Elizabeth Yin By Elizabeth I had the pleasure of speaking at RamenCamp in Boston this past weekend. Ramen Camp was a one day conference about how to bootstrap your internet company. It's a topic that I don't think is covered nearly enough.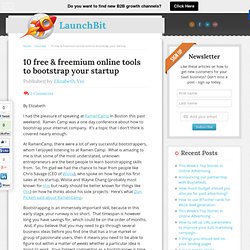 10 free & freemium online tools to bootstrap your startup - LaunchBit
Phil Libin - "So You Want to be an Entrepreneur?", by Founder Institute
Grooveshark's Interview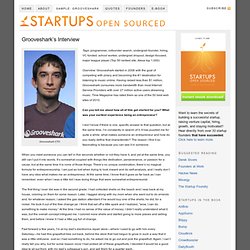 Grooveshark CTO Tags: programmer, cofounder search, undergrad founder, hiring, VC funded, school worker, undergrad dropout, design-focused, major league player (Top 50 ranked site, Alexa top 1,000) Overview: Grooveshark started in 2006 with the goal of competing with piracy and becoming the #1 destination for listening to music online.
Entrepreneur & Startup Expert Q&A, Resources and News | Sprouter
Hacker News | Ask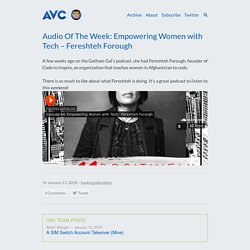 Ten years ago today I set up a TypePad account and started writing online. That first post was not much, other than the start of a habit that has transformed my life and my career. The early years were all over the place. I would write about the music I was listening to, the places I was visiting, my family, and increasingly my work.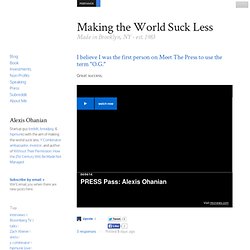 Soaring on a Pig with Bread Wings - I'm a startup guy in Brooklyn who wants to make the world suck less; I create things, startups, communities, and cute logos. This is a collection of things I upvote.
My parents left Brooklyn in the eighties to raise me in Columbia, MD—a charming Baltimore suburb. Two days ago, tragedy struck a mall there. In the town I grew up in, at a place I wandered regularly as a kid, someone shot two people then turned the gun on himself.
humbledMBA - Jason Freedman's lessons learned...and relearned.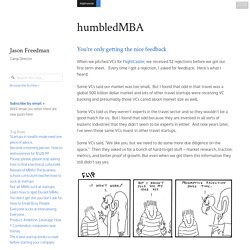 I remember being a senior in college and thinking about my possible career choices. After 16 years of school, I was just so excited to be working and out on my own. But as I looked at all the jobs offered to me, none of them seemed glamorous enough. I wanted to change the world, not be on the ground floor of some massive corporate ladder. I'd worked way too hard filling myself with all this knowledge and experience to be working for the man.