School of Hard Knocks
Build and test your web idea without programming | LaunchBit
Published by Elizabeth Yin By Elizabeth I had the pleasure of speaking at RamenCamp in Boston this past weekend. Ramen Camp was a one day conference about how to bootstrap your internet company. It's a topic that I don't think is covered nearly enough.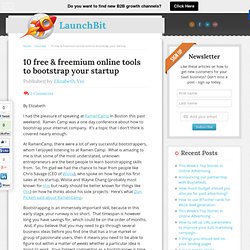 10 free & freemium online tools to bootstrap your startup - LaunchBit
Phil Libin - "So You Want to be an Entrepreneur?", by Founder Institute
Grooveshark's Interview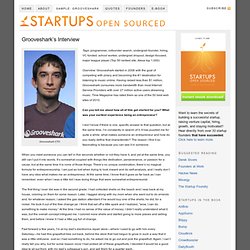 Grooveshark CTO Tags: programmer, cofounder search, undergrad founder, hiring, VC funded, school worker, undergrad dropout, design-focused, major league player (Top 50 ranked site, Alexa top 1,000) Overview: Grooveshark started in 2006 with the goal of competing with piracy and becoming the #1 destination for listening to music online.
Hacker News | Ask
Soaring on a Pig with Bread Wings - I'm a startup guy in Brooklyn who wants to make the world suck less; I create things, startups, communities, and cute logos. This is a collection of things I upvote.
humbledMBA - Jason Freedman's lessons learned...and relearned.