School of Hard Knocks
Build and test your web idea without programming | LaunchBit
Published by Elizabeth Yin By Elizabeth I had the pleasure of speaking at RamenCamp in Boston this past weekend. Ramen Camp was a one day conference about how to bootstrap your internet company. It's a topic that I don't think is covered nearly enough.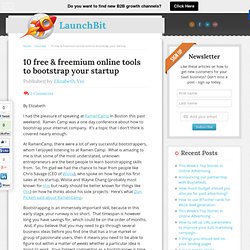 10 free & freemium online tools to bootstrap your startup - LaunchBit
Phil Libin - "So You Want to be an Entrepreneur?", by Founder Institute
Grooveshark's Interview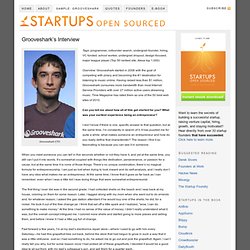 Grooveshark CTO Tags: programmer, cofounder search, undergrad founder, hiring, VC funded, school worker, undergrad dropout, design-focused, major league player (Top 50 ranked site, Alexa top 1,000) Overview: Grooveshark started in 2006 with the goal of competing with piracy and becoming the #1 destination for listening to music online.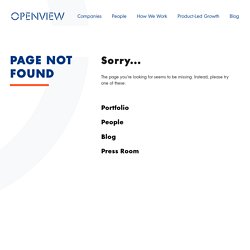 What is OpenView Labs? - Our Story
OpenView Labs is a team of highly skilled industry professionals dedicated to building great companies. As the operational consulting arm of OpenView Venture Partners, the Labs brings industry standards, functional expertise, and best practices to OpenView's portfolio of expansion-stage companies. Since being founded in 2007, the Labs has completed hundreds of significant projects for our portfolio companies spanning three main areas:
Small and medium-sized businesses across Canada can now dip into the deep pool of talent available at post-secondary institutions thanks to a $20-million investment from the federal government. Canada a global pace-setter in female entrepreneurship, but barriers still persist While Canadian women are outpacing women around the world in entrepreneurship, the country still lacks a co-ordinated national approach to women's entrepreneurship or any legislation to promote it. The Climb Up with Stephen Lake: All-star startup Thalmic Labs prepares for big test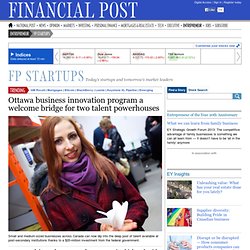 Hacker News | Ask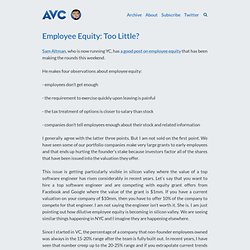 Entrepreneur: I plan to launch a better streaming music service. It leverages the data on what you and your friends currently listen to, combines that with the schedule of new music launches and acts that are touring in your city in the coming months and creates playlists of music that you should be listening to in order to find new acts to listen to and go see live. VC: Well since Spotify, Beats, and Apple have paid all the telcos so that their services are free on the mobile networks, we are concerned that new music services like yours will have a hard time getting new users to use them because the data plan is so expensive. We like you and the idea very much, but we are going to have to pass.
Soaring on a Pig with Bread Wings - I'm a startup guy in Brooklyn who wants to make the world suck less; I create things, startups, communities, and cute logos. This is a collection of things I upvote.
humbledMBA - Jason Freedman's lessons learned...and relearned.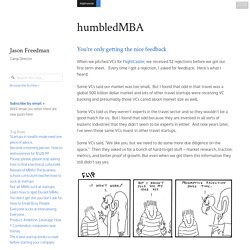 I remember being a senior in college and thinking about my possible career choices. After 16 years of school, I was just so excited to be working and out on my own. But as I looked at all the jobs offered to me, none of them seemed glamorous enough. I wanted to change the world, not be on the ground floor of some massive corporate ladder. I'd worked way too hard filling myself with all this knowledge and experience to be working for the man.