Zensight
I recently had the pleasure of working with someone who wanted to quit smoking. He had been approximately a pack a day smoker for a few decades, and had initially come to see me in relation to another personal concern. When that concern resolved mostly in the first session and then completely in the second session, he was pretty surprised (having come to me looking for "therapy" and not expecting or familiar with energy psychology approaches) and asked me if I thought I could help him to quit smoking. I said I was game to try! Haven't recently interviewed John Diepold during the monthly ACEP teleclass, I had learned more about applying EP to addictions and was excited for a chance to help someone with smoking cessation.
Zensight Energy Tips
Related Links on Therapy, Health & Healing You may wish to visit the following links to learn more about some of the different modalities that I offer. Zensight Energy Healing Zensight is a self help energy healing technique that I created.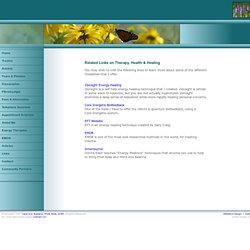 www.TamingTraumaAndAnxiety.com - Related Links
Welcome: Message from Carol Ann Rowland, MSW, RSW, DCEP I am a therapist, author, international speaker, workshop facilitator, and the creator of Zensight Energy Healing. Zensight is an intention-based energy psychology modality that helps people to transform their concerns gently and easily. No tapping, or physical touch or movements, are necessary.
Zensight Energy Healing