Energy psychology
Wholistic Healing Research » Ultimate WHEE Digital Collection
Learn WHEE: Whole Healing - Easily & Effectivelyin this Special "Ultimate WHEE Digital Collection" This revolutionary self-healing method helps users release psychological and physical pains that are holding them back from achieving their true potential. Above and beyond that, WHEE also enhances confidence, sports performance and much more! WHEE has Benefited Thousands of Users in Overcoming Many Issues Including: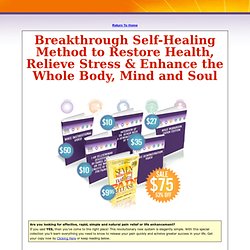 Association for Comprehensive Energy Psychology/ACEP
The Science of Energy Psychology - Uploaded by markabadi
The Tapping Solution: EFT Documentary Film | Home
Discover How to Use EFT Tapping, a Combination of Ancient Chinese Acupressure and Modern Psychology, to Improve Your Health, Wealth, Relationships, Level of Happiness, and Much More… From the Desk of Nick Ortner, New York Times Best-Selling Author of the Book "The Tapping Solution"… What I'm going to share with you on this page, and this entire site, is likely to drastically improve the quality of your life. You see, when I first learned about EFT, a type of Meridian Tapping, I was so blown away with how effective it was that I absolutely knew I had to find a way to teach others the technique.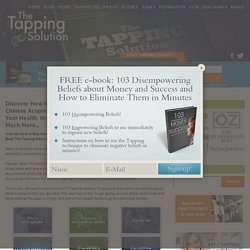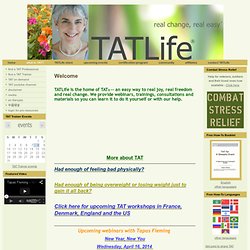 tatlife
TATLife is the home of TAT® -- an easy way to real joy, real freedom and real change. We provide webinars, trainings, consultations and materials so you can learn it to do it yourself or with our help. More about TAT Had enough of feeling bad physically?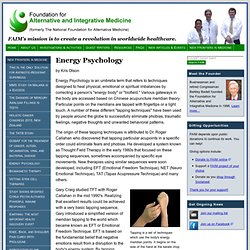 by Kris Olson Energy Psychology is an umbrella term that refers to techniques designed to heal physical, emotional or spiritual imbalances by correcting a person's "energy body" or "biofield." Various gateways in the body are accessed based on Chinese acupuncture meridian theory.
Energy Psychology | Foundation for Alternative and Integrative Medicine
Anne Merkel United States Ask for my Guide to Best Practices in Energy Management e-book with EFT laser-coaching session! Want support in CONSCIOUS LIVING, HEALTH & WELLNESS, BUSINESS TRANSFORMATION?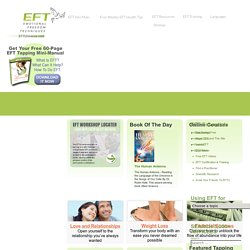 EFTUniverse.com
The Center for Integrative Psychotherapy
Association for Comprehensive Energy Psychology/ACEP: Easily Learned Trauma Relief Techniques of Energy Psychology
Powerful self-help classes, books, audio tapes, and video training programs for optimizing your health, well-being, and personal/spiritual development
Energy Psychology with David Feinstein Ph. D.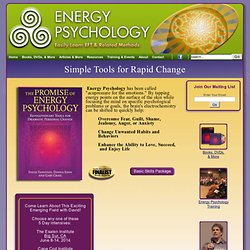 What is Energy Psychology?What is Energy Psychology?Energy Psychology provides simple methods for shifting brain patterns that lead to unwanted thoughts, feelings, and actions.
Alternative healing has become generally equated with Energy Medicine*, through the name being given to every modality that does not use allopathic drugs. This is an overgeneralization that creates a lot of misunderstanding and conflict. For example, any physicist would question that a homeopathic remedy* is called Energetic Medicine, as a homeopathic remedy* contains no known form of energy that can be measured. Analogous to this, we often hear the expressions, 'everything is frequency' or, 'healing frequencies'. This is a consequence of our modern-day superstition that everything we can observe has to be explained in the terminology of contemporary physics. Inergetix clarifies this area through its use of new terminology and basic theory.
Energy Medicine and Informational Medicine - Inergetix-CoRe
www.TamingTraumaAndAnxiety.com - Help for anxiety, trauma, fears and phobias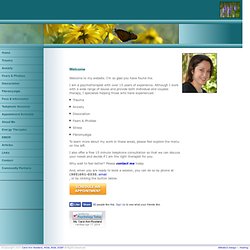 Welcome Welcome to my website. I'm so glad you have found me. I am a psychotherapist with over 15 years of experience.
Association for Comprehensive Energy Psychology/ACEP
EMDR International Association: What Is EMDR?
What Application Do I Need To Complete? Provider Application (Revised May 2008) In order to submit a program (advanced EMDR workshop) for EMDRIA Credits, applicants must first complete and submit an EMDRIA Credit Provider Application. The Provider application informs EMDRIA about how you will manage, organize and administer your continuing education programs. Program Application (Revised May 2008) Once approved, Credit Providers are welcomed to apply for EMDRIA Credits by completing and submitting a Program Application (PDF).