Historical Nonsense
Joshua A. Norton
Norton I, Emperor of the United States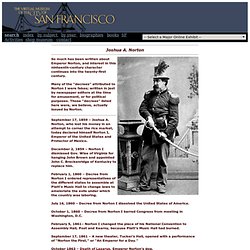 It's a running theme here at Cracked that a lot of what we think we know about history has been filtered through many centuries of utter bullshit.
6 Things From History Everyone Pictures Incorrectly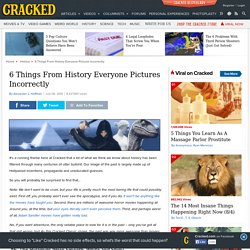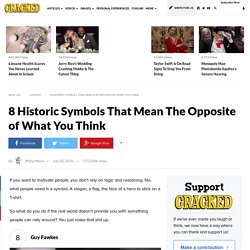 If you want to motivate people, you don't rely on logic and reasoning. No, what people need is a symbol.
8 Historic Symbols That Mean The Opposite of What You Think
About 95 percent of everything males have ever done has been with one goal in mind: to impress the ladies and hopefully get one of them to touch their wiener. But parallel to that runs an alternate universe of people whose entire goal is to stop themselves or others from having sex.
The 5 Most Horrific Ways People Have Tried to Discourage Sex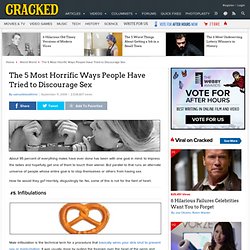 7 Insanely Advanced Weapons History Somehow Forgot About
As we have mentioned before, technological breakthroughs aren't always built upon or improved -- oftentimes they're just outright forgotten, destroyed or lost to some ridiculous accident.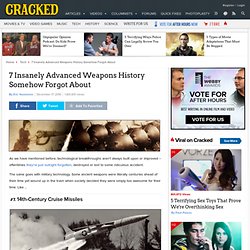 6 Famous Unsolved Mysteries (That Have Totally Been Solved)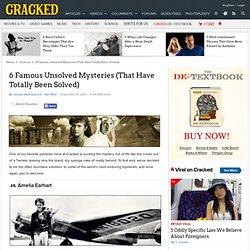 One of our favorite pastimes here at Cracked is sucking the mystery out of life like the cream out of a Twinkie, leaving only the bland, dry sponge cake of reality behind.
17 Apocalypses We'll Never See Coming Slideshow
8 Awesome Cases of Internet Vigilantism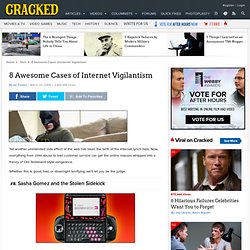 Yet another unintended side effect of the web has been the birth of the Internet lynch mob. Now, everything from child abuse to bad customer service can get the online masses whipped into a frenzy of Old Testament-style vengeance. Whether this is good, bad, or downright terrifying, we'll let you be the judge.