Jruizmes
EL PAÍS: el periódico global en español. Interstitial - elmundo.es.
Pearltrees videos
Getting started. The 30 Best Films of the Decade | Film School Rejects. Top 100 Tuesday: 100 Best Movies of the Decade. EmailEmail We are leaving Kubrick behind and fast approaching Hyams.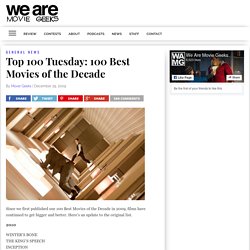 If you get that reference, go grab yourself a cookie. It is time for us to reflect back on the decade that was. On January 1st, 2000, Disney released FANTASIA 2000. On Wednesday, December 30th, 2009, THE WHITE RIBBON is set to bow.
---