Google Maps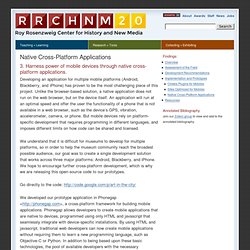 3. Harness power of mobile devices through native cross-platform applications. Developing an application for multiple mobile platforms (Android, Blackberry, and iPhone) has proven to be the most challenging piece of this project. Unlike the browser-based solution, a native application does not run on the web browser, but on the device itself.
Center for History and New Media » Native Cross-Platform Applications
Noodlesoft
Tutorial for using MySQL to retrieve mark data
Here are the files to get the basics up and running: Check the files, some things need to be changed html file basic HTML that will generate the map. maps.js the javascript functions. Save as maps.js php file Save as marks.php (called from maps.js) You should be able to alter the server settings at the top, then call this page and not get an error. You also need to add <?php as the first line, and ?> as the very last line mysqldump can be used to load a sample table called "tutor". 'marks.php' above uses this data and structure.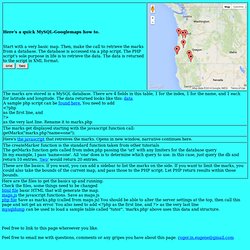 Designing and Theming Drupal for Mobile Devices
Drupal theme for iPhone and Android devices. Mobile Webkit Updated, Beta Testing | Hedin Design
Geolocation Plugin
This plugin adds HTML5 geolocation support and offers some utlity methods to calculate distances and range checks This plugin provides support for the HTML5's geolocation feature. In 3 steps you will be able to add location based behaviour to your application. User's current position will be retrieved and put into the session. The Geolocation is representated by the Geolocation domain class which implements the official W3C specifications.
Geolocation API - Gears API - Google Code
Mobilize Your Drupal Site With Mobile Tools
Mobile is big and getting bigger. Unfortunately, there's not a one-size-fits-all approach for mobilizing Drupal. Today, a plethora of modules and services exist to help developers create new iterations of traditional site interfaces.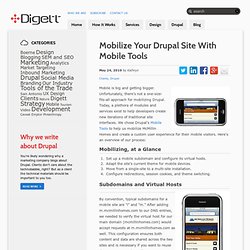 Plugin - iwebkit Plugin
Author : Sébastien Blanc This plugin provides integration with iWebkit, a powerful User Interface Library for Safari development on iPhone. By using this plugin, the grails developer will not only have an iphone web app skeleton (CSS and javascript) but also an extended tag library helping in creating iphone web pages in an easy,clean and fast way. Version 0.4 release notes: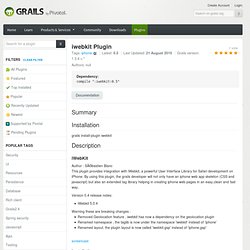 Licensing FAQs Is Sencha Touch free-of-charge for commercial use? Yes, Sencha Touch is free for use under the terms of our commercial license agreement. Are there any restrictions or limitations to the number of apps I can create with Sencha Touch? No, you may create unlimited numbers of applications with no per seat or per user payments. When do I need an OEM agreement for Sencha Touch?
Sencha Touch Download - Thank you
Home | Drupal Mobile Plugin
Google map view
Last updated August 13, 2009. Created by Zack Rosen on May 2, 2006.Edited by m1mic, sepeck.
Creating a Store Locator with PHP, MySQL & Google Maps - Google Maps API Family - Google Code
Google Geo APIs TeamAugust 2009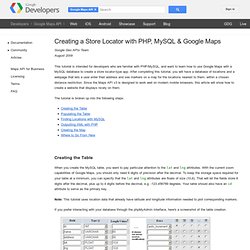 Home Page : Map Channels, free mapping tools
Showing Google Maps with many markers in PHP - Forms generation and validation package blog
Introduction Using the map location plug-in to display non-form maps Showing many markers using marker clusters Adding markers to clusters in practice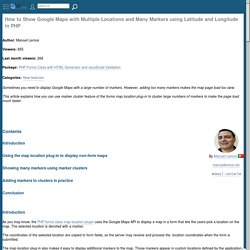 My favorites ▼ | Sign in Project Home Downloads Wiki Comment by AmandaHa...@gmail.com, Sep 15, 2009 Would be nice if you quickly also explained how to: 1/ host the php file generating the icons Comment by project member nico.mol...
NumericIcons - google-maps-icons - Project Hosting on Google Code