Forecast
Global issues
The Single Most Critical Skill for the 21st Century 7 Ways to Spot Tomorrow's Trends Today How to Succeed in an Age of Hyper-Change How Foresight Built a Fortune Forecast #1 : Electric cars powered by fuel cells earn extra cash for their owners — Your next car may help pay for itself by selling its excess electricity back to the power company. Researchers in the Netherlands have developed electric cars using fuel cells that convert biogas or hydrogen into electricity. Then, while the car is parked, it generates extra electricity that you can sell to the power company for extra cash. Forecast #2 : Open-source robot blueprints cut the cost of robots by 90% — Robot development may soon dramatically accelerate thanks to new open-source hardware-sharing systems. Similar to open-source software for computers, this new robot-development platform allows participants to share their designs so that other developers can adapt or improve on them.
Forecasts for the Next 25 Years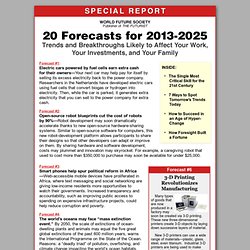 Home
CIFP - Country Indicators for Foreign Policy
Intro The year began on a positive note. A marked improvement in market sentiment, combined with monetary policy easing in developing countries, was reflected in a rebound in economic activity in both developing and advanced countries. However, since the beginning of May, much of this progress has been called into question by a re-igniting of Euro Area jitters, which roiled financial markets around the globe.
Prospects for the Global Economy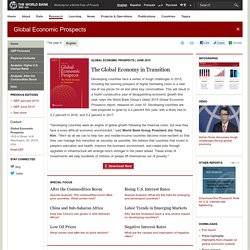 Global Economic Outlook - Outlook 2012
World - GDP - real growth rate - Historical Data Graphs per Year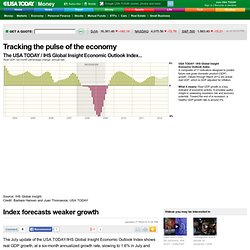 The index predicts future real GDP growth (gross domestic product, adjusted for inflation) based on 11 leading economic and financial indicators. Four of the 11 indicators were positive in July, up from three in June. Positive indicators include hours worked, real capital goods orders, the real money supply and light-vehicle sales, all of which increased.
Index forecasts weaker growth
Morgan Stanley - Global Economic Forum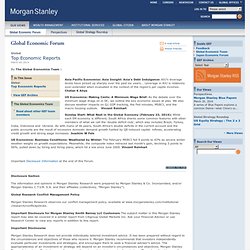 Disclosure Statement The information and opinions in Morgan Stanley Research were prepared by Morgan Stanley & Co. Incorporated, and/or Morgan Stanley C.T.V.M. S.A. and their affiliates (collectively, "Morgan Stanley").
Oxford Economics
Global Economic Outlook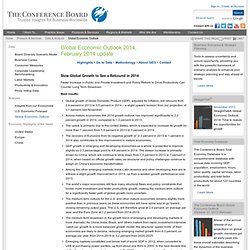 The global economy has yet to shake off the fallout from the crisis of 2008-2009. Global growth dropped to almost 3 percent in 2012, which indicates that about a half a percentage point has been shaved off the long-term trend since the crisis emerged. This slowing trend will likely continue. Mature economies are still healing the scars of the 2008-2009 crisis.
Consensus Economics - Economic Forecasts and Indicators