iOS Designs
[RELEASE] iNXE Xbox 360 Theme. Its finally here, iNXE the theme for Xbox 360 lovers.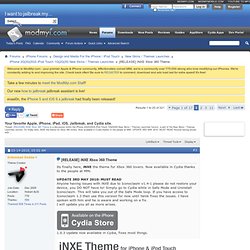 Now available in Cydia thanks to the people at MMi.UPDATE 3RD MAY 2010: MUST READ Anyone having issues with iNXE due to Iconoclasm v1.4-1 please do not restore your device, you DO NOT have to! Simply go to Cydia while in Safe Mode and Uninstall Iconoclasm. This will take you out of the Safe Mode loop. 30 Gorgeous iPhone App Interfaces & Icons. With over 100,000+ apps in the App Store, and the numbers growing fast, it's much harder to make an impact on iPhone users in the iTunes store.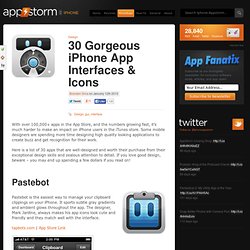 Some mobile designers are spending more time designing high quality looking applications to create buzz and get recognition for their work. Here is a list of 30 apps that are well-designed and worth their purchase from their exceptional design skills and zealous attention to detail. If you love good design, beware – you may end up spending a few dollars if you read on! Evolution OS 2. Official first user voted Theme of the Week 5 stars rated at rock app, award winning and most popular commercial theme of the month.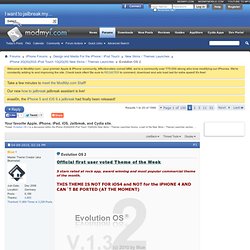 THIS THEME IS NOT FOR iOS4 and NOT for the iPHONE 4 AND CAN´T BE PORTED (AT THE MOMENT) 1.3 is now AVAIABLE on CYDA and RockApp (a English and a seperate German version) This theme needs InfiniBoard and iBlank (or iconoclasm).You can purchase this theme by a DONATION (paypal) too, you´ll get a email as soon as possible, but basicly its easier for me and you (automatic updates) if you purchase it at a store.
-->DONATE here: The Top 6 Extraordinary iPhone And iPod Touch Themes Of May. Congratulations to all the themes that ended up making it on this months Top 6 extraordinary themes Contest.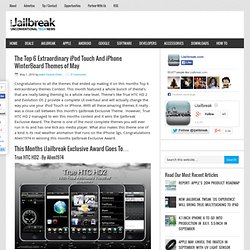 This month featured a whole bunch of theme's that are really taking theming to a whole new level. Theme's like True HTC HD 2 and Evolution OS 2 provide a complete UI overhaul and will actually change the way you use your iPod Touch or iPhone. With all these amazing themes it really was a close call between this month's iJailbreak Exclusive Theme. However, True HTC HD 2 managed to win this months contest and it wins the iJailbreak Exclusive Award. 10 Beautifully Designed iPhone [UI]tilities. New week – new iPhone app bonanza!!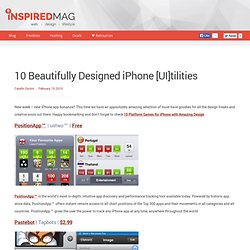 This time we have an appsolutely amazing selection of must-have goodies for all the design freaks and creative souls out there. Happy bookmarking and don't forget to check 10 Platform Games for iPhone with Amazing Design. Online Photo and Video Hosting.
---