Radiation
Get flash to fully experience Pearltrees
Contact: Dr. Franz Trieb , Carsten Hoyer-Klick , Dr. Christoph Schillings The analysis of the technical potential of concentrating solar power (CSP) on a global scale was elaborated within the European project REACCESS. It is based on annual direct normal irradiation (DNI) data provided by NASA Surface Meteorology and Solar Energy program (SSE) Version 6.0. The solar resource data has been uploaded to a geographic information system and processed together with spatial data on land use, topography, hydrology, geomorphology, infrastructure, protected areas etc. excluding sites that are not technically feasible for the construction of concentrating solar power plants.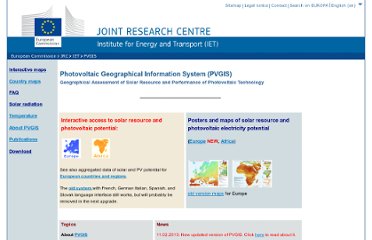 News 11.02.2013: New updated version of PVGIS. Click here to read about it. 11.02.2013: L'interface web PVGIS est maintenant disponible en français.
Because renewable resources vary considerably from one geographic location to another, optimal siting of renewable energy systems requires knowledge of the specific resource characteristics—availability, magnitude, and variability—at any given location. NREL provides high-quality renewable energy resource data for U.S. and international locations. NREL's Resource Integration Section of the Electricity, Resources, and Building Systems Integration Center coordinates the lab's resource integration. Learn more about the group's capabilities and activities Dynamic Maps and GIS Data The Geographical Information System (GIS) is a computer-based system used to manipulate, manage and analyze data important to solar, wind, biomass and geothermal technologies.