PV
Top 10 | Solarplaza | The global solar energy (PV) platform
Markets - Strukturierte Produkte | Produkte | Photon Photovoltaic Index | Open end Zertifikate | Übersicht - DE000AA04SQ5
The Royal Bank of Scotland plc (RBS) ist ein Mitglied der Royal Bank of Scotland Gruppe (die RBS Gruppe). Nähere Informationen über die RBS Gruppe erhalten Sie unter www.rbs.com (klicken Sie auf 'About Us'). RBS handelt in bestimmten Jurisdiktionen als rechtsgeschäftlicher Vertreter der The Royal Bank of Scotland N.V. (RBS N.V.)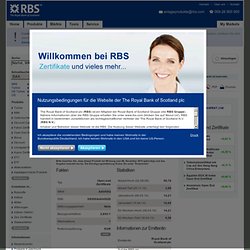 das Solarstrom-Magazin - PPVX
Tariff Watch | PV-Tech International
Photovoltaics International 21st Edition There have been encouraging signs in recent months of changing fortunes for PV equipment suppliers after a difficult period of consolidation. Shipment figures, actual and forecast, have in many instances seen an upswing, as booming markets in Japan, China and the US continue to drive demand, even as some European markets continue to dwindle. It's probably too early to call the beginnings of a new PV technology buy cycle, but it seems more a case of 'when' rather than 'if ' now, and analysts have pointed to mid-2014 as the likely point when supply and demand will be in some kind of equilibrium. Clearly the implication of this is that if demand continues to rise beyond this point, supply will have to keep up, so manufacturers will have to invest in new capacity.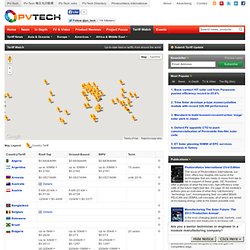 Global Green USA
Urban Scale Photovoltaic System - PV UPSCALE
PVdatabase
ENF List of Solar Companies, PV Manufacturers: Solar Panels, Inverters
Photovoltaic applications and technologies
Enphase reaches more than 1 GW-AC of microinverters shipped, launches new products Jan 16, 2014 Enphase Energy Inc. (Petaluma, California, U.S.) reports that it has shipped more than 1 GW-AC of its microinverters to accompany solar photovoltaic (PV) generation since the launch of its first microinverter in 2008. This includes 107 MW-AC of microinverter shipments in the fourth quarter of 2013, a 30% year-over-year increase.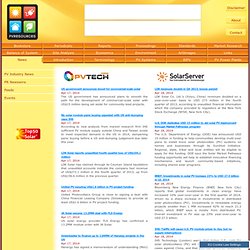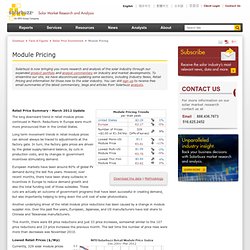 Solar Photovoltaic, PV Module, Panel Prices
Retail Price Summary - March 2012 Update The long downward trend in retail module prices continued in March. Reductions in Europe were much more pronounced than in the United States. Long term movement trends in retail module prices can almost always be traced to adjustments at the factory gate. In turn, the factory gate prices are driven by the global supply/demand balance, by cuts in production costs, and by changes in government incentives stimulating demand. European markets have been around 80% of global PV demand during the last five years.
Home
This project, funded by the European Commission's Intelligent Energy for Europe programme is now complete. It ran from July 2009 until February 2012. Its aim was to contribute reducing bureaucratic barriers holding back the development of Photovoltaic (PV) energy installations throughout Europe.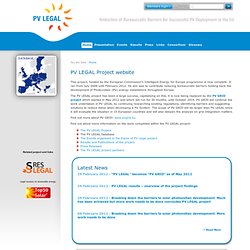 16 December 2013 - Presentations for the Task 14 workshop in Sydney, Task 1 workshop in Taipei and the May Task 14 and MetaPV workshop in Brussels are now available. More info.14 November 2013 - The Survey Report of the USA is available now. More info.22 October 2013 - Discover the 2013 Edition of the "Trends in Photovoltaic Applications" report. More info. 16 October 2013 - Presentations from EU-PVSEC workshops are online.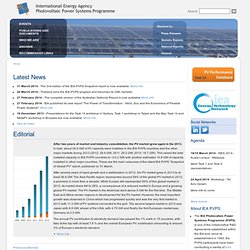 IEA Photovoltaic Power Systems Programme
EU PV Platform: Homepage