PV
Top 10 | Solarplaza | The global solar energy (PV) platform
Markets - Strukturierte Produkte | Produkte | Photon Photovoltaic Index | Open end Zertifikate | Übersicht - DE000AA04SQ5
The Royal Bank of Scotland plc (RBS) ist ein Mitglied der Royal Bank of Scotland Gruppe (die RBS Gruppe). Nähere Informationen über die RBS Gruppe erhalten Sie unter www.rbs.com (klicken Sie auf 'About Us'). RBS handelt in bestimmten Jurisdiktionen als rechtsgeschäftlicher Vertreter der The Royal Bank of Scotland N.V. (RBS N.V.)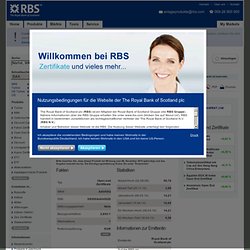 das Solarstrom-Magazin - PPVX
Tariff Watch | PV-Tech International
Global Green USA
Urban Scale Photovoltaic System - PV UPSCALE
PVdatabase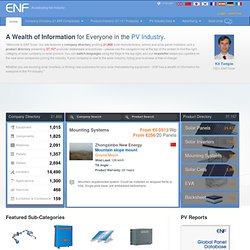 ENF List of Solar Companies, PV Manufacturers: Solar Panels, Inverters
"Welcome to ENF Solar. Our site features a company directory profiling 21,868 solar manufacturers, sellers and solar panel installers; and a product directory presenting 37,157 products' datasheets and pictures – please use the navigation bar at the top of the screen to find the right category of solar company or solar product. You can switch languages using the flags in the top right, and our newsletter keeps you updated on the new solar companies joining the industry. If your company is new to the solar industry, listing your business is free of charge! Whether you are sourcing solar inverters, or finding new customers for your solar manufacturing equipment – ENF has a wealth of information for everyone in the PV industry."
Photovoltaic applications and technologies
LDK revenues double in Q4 2013, losses persist Apr 18, 2014 LDK Solar Co. Ltd.'s (Xinyu, China) revenues doubled on a year-over-year basis to USD 273 million in the fourth quarter of 2013, according to unaudited financial information which the company provided to regulators at the New York Stock Exchange (NYSE, New York City).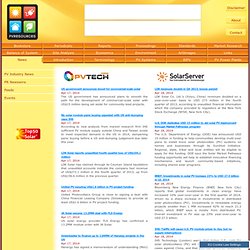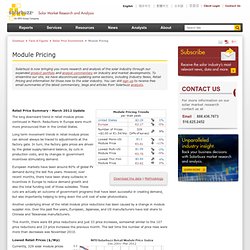 Solar Photovoltaic, PV Module, Panel Prices
Retail Price Summary - March 2012 Update The long downward trend in retail module prices continued in March. Reductions in Europe were much more pronounced than in the United States. Long term movement trends in retail module prices can almost always be traced to adjustments at the factory gate. In turn, the factory gate prices are driven by the global supply/demand balance, by cuts in production costs, and by changes in government incentives stimulating demand. European markets have been around 80% of global PV demand during the last five years.
Home
This project, funded by the European Commission's Intelligent Energy for Europe programme is now complete. It ran from July 2009 until February 2012. Its aim was to contribute reducing bureaucratic barriers holding back the development of Photovoltaic (PV) energy installations throughout Europe.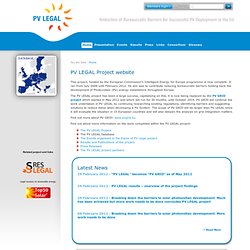 16 December 2013 - Presentations for the Task 14 workshop in Sydney, Task 1 workshop in Taipei and the May Task 14 and MetaPV workshop in Brussels are now available. More info.14 November 2013 - The Survey Report of the USA is available now. More info.22 October 2013 - Discover the 2013 Edition of the "Trends in Photovoltaic Applications" report. More info. 16 October 2013 - Presentations from EU-PVSEC workshops are online.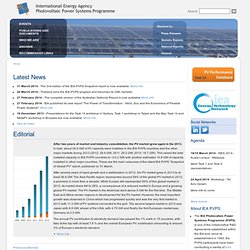 IEA Photovoltaic Power Systems Programme
EU PV Platform: Homepage