PV
Top 10 | Solarplaza | The global solar energy (PV) platform
Markets - Strukturierte Produkte | Produkte | Photon Photovoltaic Index | Open end Zertifikate | Übersicht - DE000AA04SQ5
The Royal Bank of Scotland plc ( RBS ) ist ein Mitglied der Royal Bank of Scotland Gruppe (die RBS Gruppe ). Nähere Informationen über die RBS Gruppe erhalten Sie unter www.rbs.com (klicken Sie auf 'About Us'). RBS handelt in bestimmten Jurisdiktionen als rechtsgeschäftlicher Vertreter der The Royal Bank of Scotland N.V. ( RBS N.V. ) Inhaber und Betreiber dieser Website ist die RBS.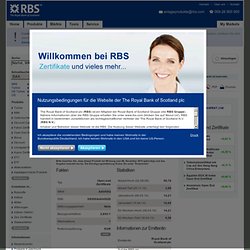 das Solarstrom-Magazin - PPVX
Tariff Watch | PV-Tech International
Photovoltaics International 18th Edition Our focus here at Photovoltaics International has always been on efficiency improvement and driving down the cost per watt of modules. In this issue we take a look at some of the market dynamics driving prices in the supply chain so that you can make better decisions to help reduce your overall cost per watt and increase your efficiency at the same time. Manufacturing The Solar Future: The 2012 Production Annual Manufacturing the Solar Future 2012, the second in the Photovoltaics International PV Production Annual series, delivers the next installment of in-depth technical manufacturing information on PV production processes.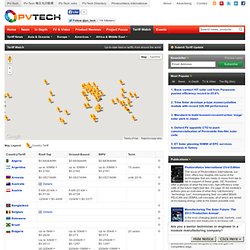 Global Green USA
Urban Scale Photovoltaic System - PV UPSCALE
PVdatabase
ENF List of Solar Companies, PV Manufacturers: Solar Panels, Inverters
Photovoltaic applications and technologies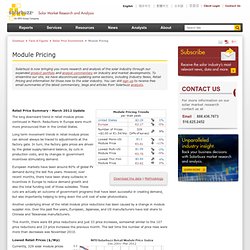 Solar Photovoltaic, PV Module, Panel Prices
Retail Price Summary - March 2012 Update The long downward trend in retail module prices continued in March. Reductions in Europe were much more pronounced than in the United States. Long term movement trends in retail module prices can almost always be traced to adjustments at the factory gate. In turn, the factory gate prices are driven by the global supply/demand balance, by cuts in production costs, and by changes in government incentives stimulating demand. European markets have been around 80% of global PV demand during the last five years.
Home
IEA Photovoltaic Power Systems Programme
EU PV Platform: Homepage