Other
What am I seeing? This visualization shows international solar DNI, wind and climate resources. Click on one of the layer buttons below to view the resource layer. For more detailed information on each country, select the country by clicking it on the map below and then select 'View in OpenCarto' or 'View Country Page in OpenEI' to explore more data for that country. For HOMER, select a point to populate the latitude/longitude or provide your own, then press the button to send this information to HOMER. More Information
Renewable energy Resource EXplorer (RREX)
VdZ - Forum für Energieeffizienz in der Gebäudetechnik e. V.
Erneuerbar Komm!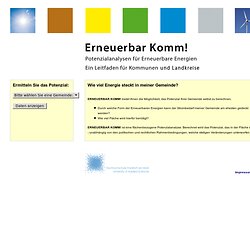 Wie viel Energie steckt in meiner Gemeinde? ERNEUERBAR KOMM! bietet Ihnen die Möglichkeit, das Potenzial Ihrer Gemeinde selbst zu berechnen. Durch welche Form der Erneuerbaren Energien kann der Strombedarf meiner Gemeinde am ehesten gedeckt werden? Wie viel Fläche wird hierfür benötigt? ERNEUERBAR KOMM!
Renewable Energy Information by Eric Martinot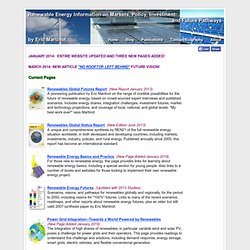 Current Pages Renewables Global Futures Report (New Report January 2013)A pioneering publication by Eric Martinot on the range of credible possibilities for the future of renewable energy, based on crowd-sourced expert interviews and published scenarios. Includes energy shares, integration challenges, investment futures, market and technology projections, and coverage of local, national, and global levels.
Geschäftsklima-Index Regenerative Energiewirtschaft
Homepage: ForschungsVerbund Erneuerbare Energien