Ethical Issues
What Are The eBusiness Ethical eCommerce, Legal And Regulatory Issues? Importance of Ethics on The Internet Applying good ethical standards to the online world is a direct reflection of your business online.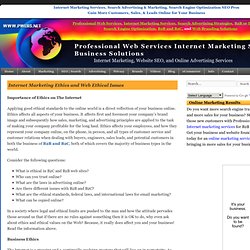 Ethics affects all aspects of your business. It affects first and foremost your company's brand image and subsequently how sales, marketing, and advertising principles are applied to the task of making your company profitable for the long haul. Ethics affects your employees, and how they represent your company online, on the phone, in person, and all types of customer service and customer relations when dealing with buyers, engineers, sales leads, and potential customers in both the business of B2B and B2C, both of which covers the majority of business types in the world.
Consider the following questions: Ethical Considerations for Providing Professional Services Online. A literature review of electronic marketplace research: Themes, theories and an integrative framework. Ethics on the Web: Applying moral decision-making to the new media.
---