ASP.NET MVC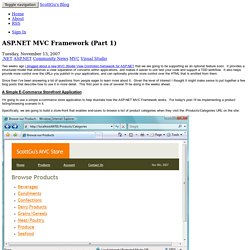 MVC Framework (Part 1)
Two weeks ago I blogged about a new MVC (Model View Controller) framework for ASP.NET that we are going to be supporting as an optional feature soon. It provides a structured model that enforces a clear separation of concerns within applications, and makes it easier to unit test your code and support a TDD workflow. It also helps provide more control over the URLs you publish in your applications, and can optionally provide more control over the HTML that is emitted from them.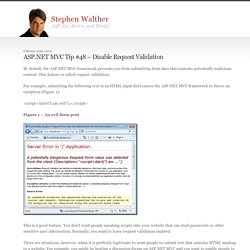 ASP.NET MVC Tip #48 – Disable Request Validation
By default, the ASP.NET MVC framework prevents you from submitting form data that contains potentially malicious content. This feature is called request validation. For example, submitting the following text in an HTML input field causes the ASP.NET MVC framework to throw an exception (Figure 1): <script>Alert('I am evil!');</script>
aspnetmvc-nerdinner_v1.pdf (application/pdf Object)
MVC Framework (Part 3): Passing ViewData from Controllers to Views
The last few weeks I have been working on a series of blog posts that cover the new ASP.NET MVC Framework we are working on.