Aquaculture
Phase Change Material | Refrigerant Gel Pack | IcePak Brick™ 0°C | Thermal Packaging | Cryopak
Canadian Food Inspection Agency - Fish, Seafood and Production - Facilities Inspection Manual - Chapter 5, subject 1 - Facility Compliance Requirements
Aquaculture and Commercial Fisheries - Fisheries and Aquaculture – Province of British Columbia
Commercial Fisheries Licence Applications and Information Application Forms and Specific Information Licensing Statistics Commercial Harvesting Licences Forms Commercial Marine Plant Harvesting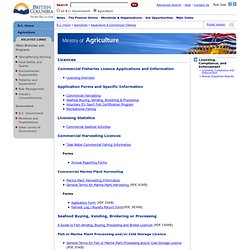 Dynamic Aqua-Supply Ltd. - Products
The Coconut Revolution
This is the modern-day story of a native peoples remarkable victory over Western Colonial power. A Pacific island rose up in arms against giant mining corporation Rio Tinto Zinc (RTZ) – and won despite a military occupation and blockade. When RTZ decided to step up production at the Panguna Mine on the island of Bougainville, they got more than they bargained for.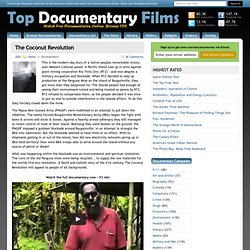 Crystal Air water treatment ozone systems product list
Wall mounted ozone generators, controllers for water purification
Rotifer incubator - Aquamerik - aquaculture & environnement
About Us
Corporation - Hygienic and Cost Effective Steam Pressure Cleaning
is the first and only aquaculture venture capital firm.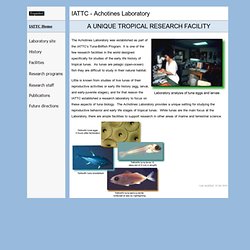 The Achotines Laboratory
The Achotines Laboratory was established as part of the IATTC's Tuna-Billfish Program. It is one of the few research facilities in the world designed specifically for studies of the early life history of tropical tunas. As tunas are pelagic (open-ocean) fish they are difficult to study in their natural habitat. Little is known from studies of live tunas of their reproductive activities or early life history (egg, larval, and early-juvenile stages), and for that reason the IATTC established a research laboratory to focus on these aspects of tuna biology.
About Aquacopia
Bishop Aquatic Technologies, Inc.,Mexican Oyster Grow-Out Trays
Bishop Aquatic Technologies, Inc.,High Flow Aquatech Trays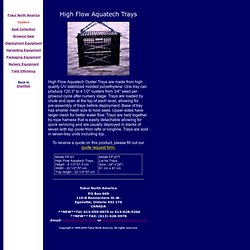 High Flow Aquatech Trays High Flow Aquatech Oyster Trays are made from high quality UV stabilized molded polyethylene. One tray can produce 120 3" to 4 1/2" oysters from 3/4" seed per growout cycle after nursery stage. Trays are loaded by chute and open at the top of each level, allowing for pre-assembly of trays before deployment. Base of tray has smaller mesh size to hold seed. Upper sides have larger mesh for better water flow.
www.agrifoodskills.net.au/uploads/file/ISS FEL REPORT G PARTRIDGE low res.pdf
www.psmfc.org/ans_presentations/KentD.pdf
Inter-American-Tropical-Tuna-Commission
PR Aqua - Microscreen Drum Filters
Drum filter, Drum filters, Drumfilter
distributors in the world of