Internet Tech
internetspeedsandprice.jpg (JPEG Image, 1323x1486 pixels)
The new cellphone killer app is data. Spring Nextel boss Dan Hesse says that voice-use has dropped to less than half of cellphone network traffic. According to the CTIA, the number text message sent last year was up 50% on the year before.
Data Overtakes Voice in Cellphone Use | Gadget Lab
How the E-Book Will Change the Way We Read and Write
Téléchargez l'observatoire (pdf) Au 30 septembre 2013, le nombre d'abonnements internet à haut et très haut débit sur réseaux fixes atteint 24,6 millions, soit une croissance nette de 260 000 abonnements sur le trimestre. Sur un an, l'accroissement net s'élève à 1,0 million (+4%). Sur ce total, le nombre d'abonnements à haut débit est de 22,8 millions, soit une progression de 180 000 abonnements en un trimestre. Le nombre d'abonnements xDSL (22,4 millions à la fin du deuxième trimestre 2013) est en hausse de 150 000 sur le trimestre.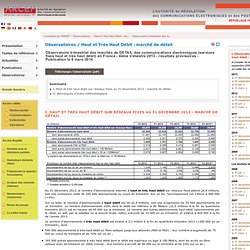 Observatoire du haut et très haut débit sur réseaux fixes - marc
Quantum Internet May Become a Reality - PCWorld
The Emotiv EPOC headset is being marketed as both a gaming device and as an aid for the disabled. It has 14 EEG electrodes to monitor brain activity, a gyroscope so it knows where you noggin is in space and packs a li-ion battery for 12 hours of use. It is also wireless, and charges via USB. The headset reads brain activity related to facial movements, and uses this to infer your emotional state and intentions. This is then translated in software to control various applications, from games to photo viewers to an on-screen keyboard.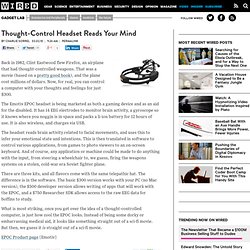 Thought-Control Headset Reads Your Mind | Gadget Lab
New Data on Twitter's Users and Engagement « The Metric System
[To keep up with our latest research and updates, follow us on Twitter @RJMetrics] Since my guest post on TechCrunch last fall, I've received frequent requests to update and expand upon my Twitter data analysis. As the Twitter API continues to improve, our ability to profile the company from the outside-looking-in becomes even stronger. I recently conducted an updated round of analysis and will be posting my findings in a series of posts here at The Metric System in the coming weeks. Updating this analysis in RJMetrics was just a matter of a few clicks, and we could easily highlight the most interesting tidbits of new information. If you'd like that level of control of your own business's data, you should try out our demo to learn more.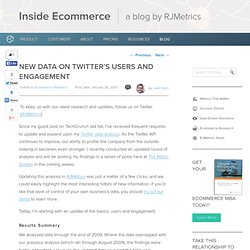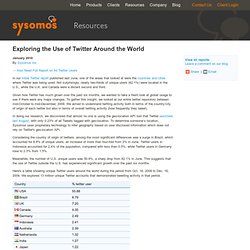 In our initial Twitter report published last June, one of the areas that looked at were the countries and cities where Twitter was being used. Not surprisingly, nearly two-thirds of unique users (62.1%) were located in the U.S., while the U.K. and Canada were a distant second and third. Given how Twitter has much grown over the past six months, we wanted to take a fresh look at global usage to see if there were any major changes. To gather this insight, we looked at our entire twitter repository between mid-October to mid-December, 2009. We aimed to understand twitting activity both in terms of the country/city of origin of each twitter but also in terms of overall twitting activity (how frequently they tweet).
Exploring the Use of Twitter Around the World
mobytics - web statistics on your mobile - about mobytics
Conversion optimization is bigger than your web site. From blogs and landing pages, to official outlets on social media sites, marketers now manage a large extended web that thrives beyond the borders of the traditional web site. Great conversion optimization must leverage the dynamics of each layer—and coordinate the interaction between them. The extended web solar system
The 5 Rings Of Conversion Optimization