Mind and Body
Get flash to fully experience Pearltrees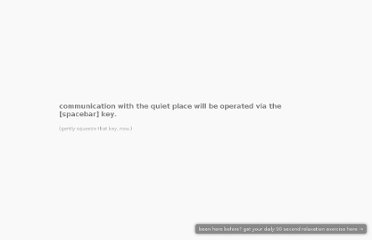 communication with the quiet place will be operated via the [spacebar] key.
Have you ever wished you could go back in time and have a conversation with one of the greatest minds in history? Well, you can't sorry, they're dead.
If you see a student dozing in the library or a co-worker catching 40 winks in her cubicle, don't roll your eyes. New research from the University of California, Berkeley, shows that an hour's nap can dramatically boost and restore your brain power.
How time perception is warped by life-threatening situations, eye movements, tiredness, hypnosis, age, the emotions and more...