elearning
Get flash to fully experience Pearltrees
Ambient Insight is an integrity-based market research firm that identifies revenue opportunities for international eLearning suppliers and global Mobile Learning vendors. For more information about our research, or permission to quote or reuse content, contact us at info@ambientinsight.com . Research Taxonomy Ambient Insight's Learning Technology Research Taxonomy ( Whitepaper - 2.4MB PDF Document ) Includes Research Methodology, Buyer Segmentation, Pedogogical Model, Product Definitions, and Licensing Model - Updated January 2012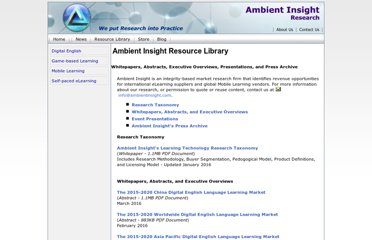 The world is caught up in an Information Age revolution, where we are all evaluating products, restaurants, doctors, books, hotels, and everything else online, but education has not yet moved past the standardized assessment, which was invented in 1914. Frederick Kelly, a doctoral student in Kansas, was looking for a mass-produced way to address a teacher shortage caused by World War I. If Ford could mass produce Model T's, why not come up with a test for "lower order thinking" for the masses of immigrants coming into America just as secondary education was made compulsory and all the female teachers were working in factories while their men went to the European front? Even Kelly was dismayed when his emergency system, which he called the Kansas Silent Reading Test, was retained after the war ended. By 1926, a variation of Kelly's test was adopted by the College Entrance Examination Board as the Scholastic Aptitude Test (SAT). The rest is history.
elearning ART | ERGO | PROD
30 mai, 2012 Quels sont les points clés à définir pour choisir le logiciel auteur qui répond le mieux à vos besoins de production de contenus e-learning ? Qu'est-ce qu'un outil auteur e-learning ? Un logiciel auteur est un programme informatique utilisé pour produire des réalisations originales, ici des modules de formation à distance. Les entreprises peuvent alors internaliser leur production de contenus e-learning sur mesure et même l'industrialiser. Les équipes internes gèrent elles-mêmes la conception des parcours de formation à distance en y intégrant des exercices dynamiques et interactifs.
I was in a meeting with a prospective PhD candidate today and the conversation inevitably led to learning. He pointed out that in his lterature reviews he had uncovered a bewildering number of different, and often opposing learning theories. He was clearly impressed if not a little phased by the huge array of concepts and ideas that theorists had developed to try to explain what it means when we learn something.