Omvärldsbevakning3
This week ReadWriteWeb will run a series of posts detailing what we think are the five biggest, most cutting-edge Web trends to come out of 2009.
Top 5 Web Trends of 2009: Structured Data
Därför vill alla ha pc som tjänst
I Sverige finns i dag runt fem miljoner företags-pc, enligt analysföretaget IT Research. Hittills har de i huvudsak ägts av de företag som använder dem. Men på senare tid har bilden ändrats.
De levererar pc till västsvenska sjukhus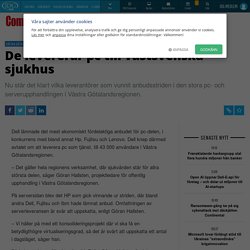 Dell lämnade det mest ekonomiskt fördelaktiga anbudet för pc-delen, i konkurrens med bland annat Hp, Fujitsu och Lenovo. Dell knep därmed avtalet om att leverera pc som tjänst, till 43 000 användare i Västra Götalandsregionen. – Det gäller hela regionens verksamhet, där sjukvården står för allra största delen, säger Göran Hallsten, projektledare för offentlig upphandling i Västra Götalandsregionen. På serversidan blev det HP som gick vinnande ur striden, där bland andra Dell, Fujitsu och Ibm hade lämnat anbud.
U.S. Library of Congress to archive Twitter : Confessions of a Science Librarian
One of the emerging trends of the Mobile Web is using your phone to interact with the real world. We're not just talking about 'checking in' to locations, either. There's a world of more practical functionality that hasn't yet ramped up in the West - using your phone as a payment device (for example mobile ticketing ), getting special offers from retailers, downloading data from the Web via 'smart posters' on the street, and more.
NFC: Never Mind Credit Cards, Pay With Your Phone
Liikenne- ja viestintäministeriön rahoittama julkaisu "dataopas" eli ajatuksia ja käytännön ohjeita julkisen datan maksuttomasta jakamisesta on juuri ilmestynyt. Antti Poikolan, Petri Kolan ja Kari A. Hintikan kirjoittama "Julkinen data – johdatus tietovarantojen avaamiseen" löytyy osoitteesta http://julkinendata.fi/
Askel kohti avointa julkisdataa – Digitaalinen kirjasto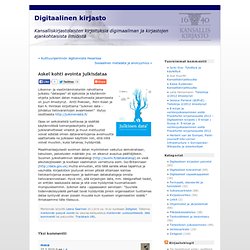 1 The amount of information in our digital universe is expected to double in size every 18 months, according to a recent report – so how do universities choose which of these new information bits to keep and which to discard? Increasingly, university managers and researchers are looking to justify the cost of preservation alongside other technical and legal issues. Now a new international task force funded by JISC and other organisations is highlighting examples of current practice in the UK, America and Europe to look at business cases for long term preservation and access. Neil Grindley, programme manager at JISC, said, "This report takes a clearheaded and hard look at some of the ideas surrounding preservation asking questions like 'why are we preserving this?' By highlighting the economic aspects of these decisions colleges and universities should be better able to prioritise which information to keep and create a more secure legacy."
Podcast/Press Release: Making the business case for digital preservation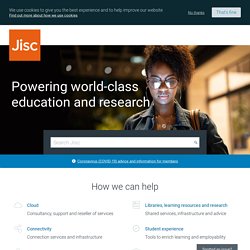 One of the projects in the Digging into Data Challenge is entitled Digging into the Enlightenment: Mapping the Republic of Letters It traces the flow of correspondence between intellectuals in eighteenth-century Europe , thus helping giving an indication of the flow of ideas from writers such as Adam Smith, David Hume and Jean-Jacques Rousseau. This YouTube video, featuring Dr Dan Edelstein from the US side of the team at Stanford University, is a useful introduction to the project, and reveals some of the general aims of the broader Digging into Data programme . Also involved in the project are Dr Chris Weaver from the University of Oklahoma and, in the UK, Robert McNamee from the University of Oxford. Share and Enjoy
Tracking the Exchange of Ideas in the Enlightenment : Digitisation
BRTF_Final_Report.pdf (application/pdf Object)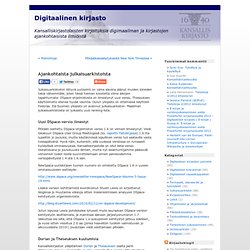 Julkaisuarkistoihin liittyvä uutisointi on viime aikoina jäänyt muiden kiireiden takia vähemmälle, joten tässä hieman koostetta viime aikojen tapahtumista: DSpace-ohjelmistosta on ilmestynyt uusi versio. Theseuksen käyttöönotto etenee hyvää vauhtia. Oulun yliopisto on ottamassa käyttöön Fedoraa.
Ajankohtaista julkaisuarkistoista – Digitaalinen kirjasto
DCC: A new phase, a new perspective, a new Director
As the DCC begins its third phase today, I am delighted to announce the appointment of our new Director, Kevin Ashley, who will succeed me upon my retirement in April 2010. Kevin Ashley has been Head of Digital Archives at the University of London Computer Centre (ULCC) since 1997, during which time his multi-disciplinary group has provided services related to the preservation and reusability of digital resources on behalf of other organisations, as well as conducting research, development and training. The group has operated the National Digital Archive of Datasets for The National Archives of the UK for over twelve years, delivering customised digital repository services to a range of organisations. As a member of the JISC's Infrastructure and Resources Committee, the Advisory Council for ERPANET, plus several advisory boards for data and archives projects and services, Kevin has contributed widely to the research information community.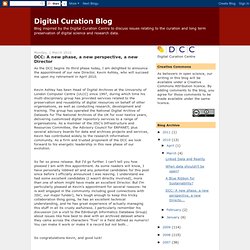 Future of internet 2010 - AAAS paper.pdf (application/pdf Object)
Twitter Just Passed MySpace in Number of Status Updates
Twitter made news today for announcing that it now sees an average of 50 million status messages posted each day . A sharp growth curve indicates that activity on Twitter could grow much higher in the short term future.
Eighteenth century correspondence website wins JISC award
A JISC Collections-sponsored digital prize has been awarded to Electronic Enlightenment, a website that reconstructs the vital web of 18th century correspondence that marked the start of the modern world. The resource holds the most wide-ranging online collection of correspondence of the early modern period, including over 55,000 letters in a network of interconnected documents, linking people across Europe, the Americas and Asia from the early 17th to the mid 19th century. The resource holds the most wide-ranging online collection of correspondence of the early modern period, including over 55,000 letters in a network of interconnected documents, linking people across Europe, the Americas and Asia from the early 17th to the mid 19th century.
The Man Who Looked Into Facebook's Soul
Youth social networking researcher danah boyd has observed that many people presume the way they use social networks is the way everyone uses them.
UEF Electronic Publications - Itä-Suomen Yliopiston julkaisut verkossa « FinnOA
Itä-Suomen yliopiston avoin julkaisuarkisto on avattu osoitteessa: http://epublications.uef.fi/ Sivustolta löytyvät Itä-Suomen yliopiston julkaisujen lisäksi myös Joensuun ja Kuopion yliopistoissa julkaistuja elektronisia julkaisuja. Palvelu on rakennettu kehittäen Joensuun yliopiston kirjastossa tehtyä JoyPub-julkaisuarkistoa.
n edellisen kokouksen 22.1.2010 muistio « FinnOA
Työryhmän tuli tehdä esitys siitä, miten Kotimaisten kielten tutkimuskeskuksen nykyisin hoitamat tehtävät olisi tarkoituksen­mukaisinta hoitaa ottaen huomioon toimintaympäristön muutokset. Työryhmän tuli määritellä Kotuksen ydintehtävät, tehdä ­ehdotus Kotuksen nykyisen toiminnan rakenteellisesta uudistamisesta siten, että kansallis- ja vähemmistökielten huolto Suomessa turvataan, sekä tehdä ehdotukset tarvittavista säädösmuutoksista, rahoitusjärjestelyistä ja henkilöstövoimavaroista. Työryhmä otti työssään huomioon sille toimeksiannossa määrätyt näkökohdat: valtionhallinnon tuottavuusohjelman, tutkimuskeskuksen arvioinnin vuodelta 2008 ja sektoritutkimuksen rakenteiden uudistamisen mukaan lukien perustutkimuksen siirron yliopistoihin. Lisäksi se otti huomioon alueellistamisnäkökohdat. Työryhmä teetti kaksi selvitystä.
OPM - Kotimaisten kielten tutkimuskeskuksen tehtävät
Speaking writer to readers, I want to register some year-end thoughts on climate change in the realm of reading.
In praise of words, not books
Sosiaalisen ja perinteisen median rajalla « Verkostouutiset
5 Enterprise Trends To Watch in 2010: Part 2 - ReadWriteEnterprise
039;s Top 5 Web Trends of 2009
Authority control, then and now : The Book of Trogool
10 Web trends to watch in 2010
FR Doc E9-29322
Peter Suber, Open Access News
CRIS status
A New, Now Netbook You Can Actually Buy: PsiXpda