Ipad
Digital Publishing | Adobe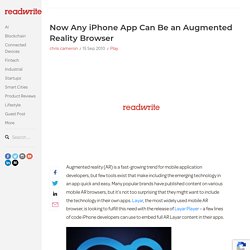 Now Any iPhone App Can Be an Augmented Reality Browser
Augmented reality (AR) is a fast-growing trend for mobile application developers, but few tools exist that make including the emerging technology in an app quick and easy. Many popular brands have published content on various mobile AR browsers, but it's not too surprising that they might want to include the technology in their own apps.
Twitter has just launched its first official iPad application, and the reviews so far have been glowing. The new app offers a few notable features, such as panes for interacting with content within a stream, media which displays inline without slowing you down and gesture support for common Twitter actions.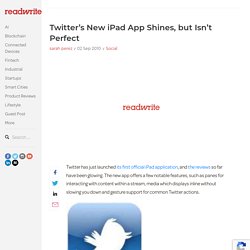 Twitter's New iPad App Shines, but Isn't Perfect
We were surprised to find a long missive penned by Apple's CEO Steve Jobs posted to the Web this morning.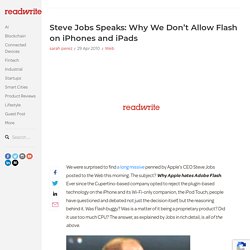 Steve Jobs Speaks: Why We Don't Allow Flash on iPhones and iPads
Languages Symptoms Learn how to troubleshoot Wi-Fi1 issues you may encounter while using your iPhone, iPad, or iPod touch. Resolution Occasionally while using your iOS device, you may notice unexpected Wi-Fi behavior: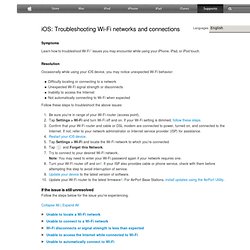 iPad: Troubleshooting Wi-Fi networks and connections
Farewell, Keyboard - Generation I Will Grow Up on Touchscreens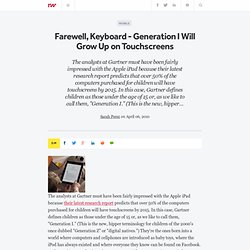 The analysts at Gartner must have been fairly impressed with the Apple iPad because their latest research report predicts that over 50% of the computers purchased for children will have touchscreens by 2015. In this case, Gartner defines children as those under the age of 15 or, as we like to call them, "Generation I." (This is the new, hipper terminology for children of the 2000's once dubbed "Generation Z" or "digital natives.") They're the ones born into a world where computers and cellphones are introduced as baby toys, where the iPod has always existed and where everyone they know can be found on Facebook.
iPad's Top Apps and Early Trends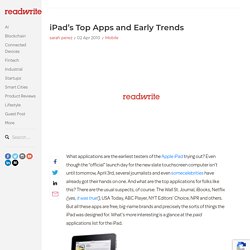 What applications are the earliest testers of the Apple iPad trying out?
E-Books on the iPad: iBooks vs. Kindle for iPad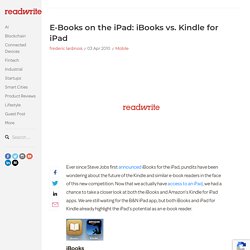 Ever since Steve Jobs first announced iBooks for the iPad, pundits have been wondering about the future of the Kindle and similar e-book readers in the face of this new competition. Now that we actually have access to an iPad, we had a chance to take a closer look at both the iBooks and Amazon's Kindle for iPad apps. We are still waiting for the B&N iPad app, but both iBooks and iPad for Kindle already highlight the iPad's potential as an e-book reader.
The news may be about the iPad this weekend but it's the cloud that will hover hot over Apple by the Fall and in many respects challenge its hegemony over how we store and share music and video.
Will the Cloud Challenge Apple's Dynasty? - ReadWriteCloud