Ipad
Digital Publishing | Adobe
Now Any iPhone App Can Be an Augmented Reality Browser
Twitter's New iPad App Shines, but Isn't Perfect
Steve Jobs Speaks: Why We Don't Allow Flash on iPhones and iPads
Symptoms When using a Wi-Fi network with your iPhone, iPad, or iPod touch, you may occasionally encounter the following issues: Unable to locate a Wi-Fi network Unable to join a nearby Wi-Fi network Connected to Wi-Fi network, but unable to access the Internet Weak or low Wi-Fi signal strength This article outlines basic troubleshooting tips and techniques for Wi-Fi on your iOS device. For information on enabling or configuring a Wi-Fi connection, see the User Guide for your product.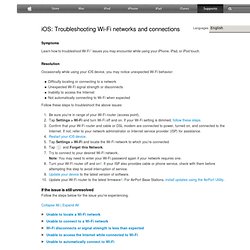 iPad: Troubleshooting Wi-Fi networks and connections
Farewell, Keyboard - Generation I Will Grow Up on Touchscreens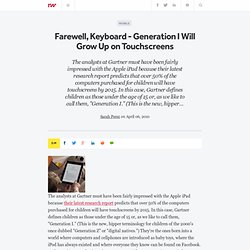 The analysts at Gartner must have been fairly impressed with the Apple iPad because their latest research report predicts that over 50% of the computers purchased for children will have touchscreens by 2015. In this case, Gartner defines children as those under the age of 15 or, as we like to call them, "Generation I." (This is the new, hipper terminology for children of the 2000's once dubbed "Generation Z" or "digital natives.") They're the ones born into a world where computers and cellphones are introduced as baby toys, where the iPod has always existed and where everyone they know can be found on Facebook.
iPad's Top Apps and Early Trends
E-Books on the iPad: iBooks vs. Kindle for iPad
Will the Cloud Challenge Apple's Dynasty? - ReadWriteCloud