Ipad
Digital Publishing | Adobe. The Adobe USA site has been optimized for users within the United States.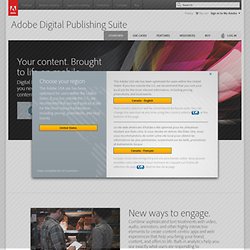 If you live outside the U.S., we recommend that you visit your local site for the most relevant information, including pricing, promotions, and local events. United States Canada - English. Now Any iPhone App Can Be an Augmented Reality Browser. Augmented reality (AR) is a fast-growing trend for mobile application developers, but few tools exist that make including the emerging technology in an app quick and easy.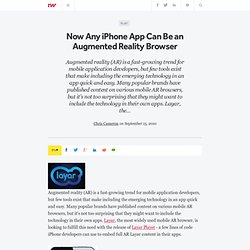 Many popular brands have published content on various mobile AR browsers, but it's not too surprising that they might want to include the technology in their own apps. Layar, the most widely used mobile AR browser, is looking to fulfill this need with the release of Layar Player - a few lines of code iPhone developers can use to embed full AR Layar content in their apps. Popular high-end vendors like metaio and Total Immersion offer licensed SDKs that can be used to develop full-blown applications from the ground up, but some brands may want a simpler solution to add some AR flare to an existing app.
Just as the popular app RedLaser offers embeddable barcode scanning (as used by Target and other brands), Layar now lets iPhone app developers include AR layer browsing directly within their apps. Twitter's New iPad App Shines, but Isn't Perfect. Twitter has just launched its first official iPad application, and the reviews so far have been glowing.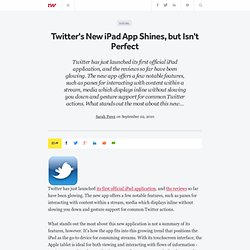 The new app offers a few notable features, such as panes for interacting with content within a stream, media which displays inline without slowing you down and gesture support for common Twitter actions. What stands out the most about this new application is not a summary of its features, however. Steve Jobs Speaks: Why We Don't Allow Flash on iPhones and iPads. We were surprised to find a long missive penned by Apple's CEO Steve Jobs posted to the Web this morning.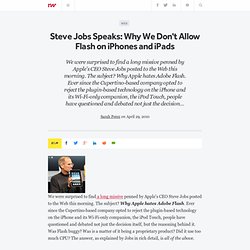 The subject? Why Apple hates Adobe Flash. Ever since the Cupertino-based company opted to reject the plugin-based technology on the iPhone and its Wi-Fi-only companion, the iPod Touch, people have questioned and debated not just the decision itself, but the reasoning behind it. iPad: Troubleshooting Wi-Fi networks and connections. Languages Symptoms Learn how to troubleshoot Wi-Fi1 issues you may encounter while using your iPhone, iPad, or iPod touch.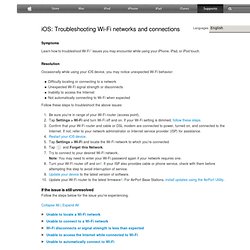 Resolution Occasionally while using your iOS device, you may notice unexpected Wi-Fi behavior: Farewell, Keyboard - Generation I Will Grow Up on Touchscreens. The analysts at Gartner must have been fairly impressed with the Apple iPad because their latest research report predicts that over 50% of the computers purchased for children will have touchscreens by 2015.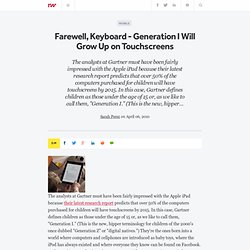 In this case, Gartner defines children as those under the age of 15 or, as we like to call them, "Generation I. " (This is the new, hipper terminology for children of the 2000's once dubbed "Generation Z" or "digital natives. ") They're the ones born into a world where computers and cellphones are introduced as baby toys, where the iPod has always existed and where everyone they know can be found on Facebook. iPad's Top Apps and Early Trends. What applications are the earliest testers of the Apple iPad trying out?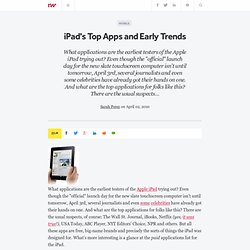 Even though the "official" launch day for the new slate touchscreen computer isn't until tomorrow, April 3rd, several journalists and even some celebrities have already got their hands on one. And what are the top applications for folks like this? There are the usual suspects, of course: The Wall St. Journal, iBooks, Netflix (yes, it was true!) , USA Today, ABC Player, NYT Editors' Choice, NPR and others. E-Books on the iPad: iBooks vs. Kindle for iPad. Ever since Steve Jobs first announced iBooks for the iPad, pundits have been wondering about the future of the Kindle and similar e-book readers in the face of this new competition.
Now that we actually have access to an iPad, we had a chance to take a closer look at both the iBooks and Amazon's Kindle for iPad apps. We are still waiting for the B&N iPad app, but both iBooks and iPad for Kindle already highlight the iPad's potential as an e-book reader. iBooks It doesn't come as a surprise that Apple managed to develop the prettier e-reader app. Will the Cloud Challenge Apple's Dynasty? - ReadWriteCloud. The news may be about the iPad this weekend but it's the cloud that will hover hot over Apple by the Fall and in many respects challenge its hegemony over how we store and share music and video.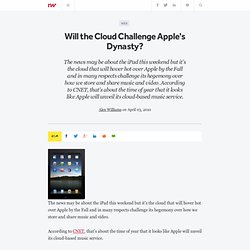 According to CNET, that's about the time of year that it looks like Apple will unveil its cloud-based music service. In the meantime we are seeing a number of storage services emerge for the iPad that could be used for people to store their music and other media.
---