Photoshop Tutorials
Best Photoshop Tutorials. 60 Photoshop Tutorials for Photo Touch-Ups. Photoshop has tons of potential for improving photos in one way or another.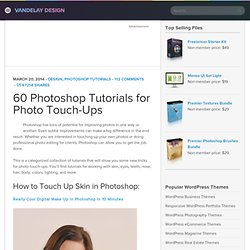 Even subtle improvements can make a big difference in the end result. Whether you are interested in touching up your own photos or doing professional photo editing for clients, Photoshop can allow you to get the job done. This is a categorized collection of tutorials that will show you some new tricks for photo touch-ups. Online Photoshop Tutorials and Downloads for Designers. Tutorial Magazine / photoshop. 25 Free, Easy to Download Paper Textures - Photoshop Tutorials & Photos... I've organized 25 free paper textures: 5 crinkled paper textures, 5 worn paper textures, 5 torn paper textures, 5 burnt paper textures, and 5 grunge-stained paper textures.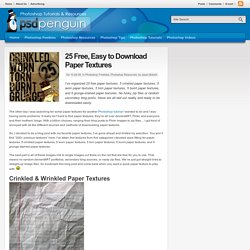 No funky zip files or random secondary blog posts, these are all laid out neatly and ready to be downloaded easily. The other day I was searching for some paper textures for another Photoshop tutorial I wanted to do and I was having some problems. It really isn't hard to find paper textures; they're all over deviantART, Flickr, and everyone and their mothers' blogs. With a billion choices, ranging from blog posts to Flickr images to zip files… I got kind of annoyed with all the different sources and methods of downloading paper textures. Tutorials & Education.
Tutorials. 34 Photoshop Tutorials That Will Leave You Looking Like A Pro. This time we are bringing you a lot of Photoshop tutorials on all sorts of topics.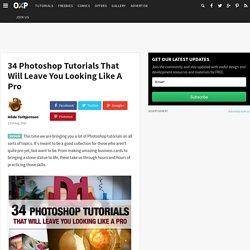 It's meant to be a good collection for those who aren't quite pro yet, but want to be. From making amazing business cards to bringing a stone statue to life, these take us through hours and hours of practicing those skills. These tutorials are some of the best and varied out there. If you learn to master some of the techniques and tricks from these, you will be sure to land on your feet looking like a pro! But be aware that for most of these a basic+ understanding of Photoshop is required to be able to follow the steps.
Photo tutorials. Masking with Channels | Effects Tools Tutorials. This week's tutorial deals with creating masks for complicated images by using channels.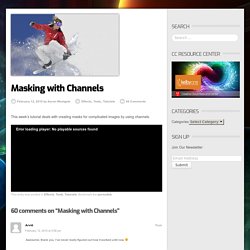 Corey is a education and curriculum developer for KelbyOne. He is a graduate of the Ringling School of Art & Design in Sarasota, Fl, with a degree in Illustration. Retouching with Dodge and Burn | Photography Tutorials. Tutorials. TutsArena - The best web design tutorial resource for designers on the web! Photoshop Tutorials. Good-Tutorials - Newest Tutorials. Psdtuts+ | Adobe Photoshop tutorials, from beginner to advanced.
---