Photoshop Tutorials
Sometimes you just want to make a simple change to a photo to enhance it or give it a little flair. Learn how to change hair color easily with today's Photoshop tip. Whether you are a newbie or a seasoned user of Photoshop, wouldn't it be nice to make things a little easier on yourself by customizing a shortcut template? Let's explore a significant enhancement to the 'Refine Edge' masking effect that is a huge timesaver as it lets newbies and pros alike create flawless combinations of merged images.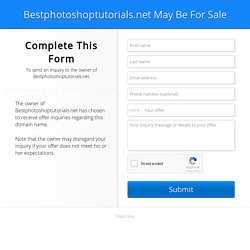 Photoshop has tons of potential for improving photos in one way or another. Even subtle improvements can make a big difference in the end result. Whether you are interested in touching up your own photos or doing professional photo editing for clients, Photoshop can allow you to get the job done. This is a categorized collection of tutorials that will show you some new tricks for photo touch-ups.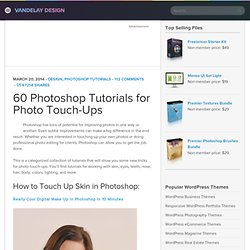 I've organized 25 free paper textures: 5 crinkled paper textures, 5 worn paper textures, 5 torn paper textures, 5 burnt paper textures, and 5 grunge-stained paper textures. No funky zip files or random secondary blog posts, these are all laid out neatly and ready to be downloaded easily. The other day I was searching for some paper textures for another Photoshop tutorial I wanted to do and I was having some problems. It really isn't hard to find paper textures; they're all over deviantART, Flickr, and everyone and their mothers' blogs. With a billion choices, ranging from blog posts to Flickr images to zip files… I got kind of annoyed with all the different sources and methods of downloading paper textures.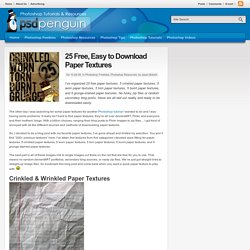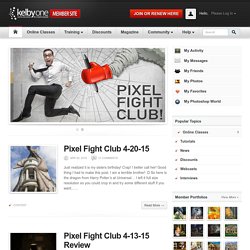 Learning about Typography part 4 Typography is such a big part of design, and yet it can be daunting and scary and passed over by us as designers because we just are not really aware of the rules and what to do. Cameron Chapman has done a series of wonderful articles that I came across that I wanted to share the links with you so that you and I can become better type practitioners. So make sure you go over to Noupe.com and check out this final article in the series and then maybe follow some of the links that Cameron has provided to learn even more. http://www.noupe.com/design/a-crash-course-in-typography-pulling-it-all-together.html Read More →
Tutorials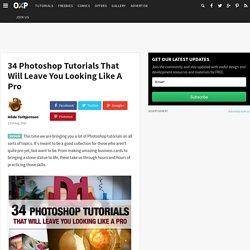 This time we are bringing you a lot of Photoshop tutorials on all sorts of topics. It's meant to be a good collection for those who aren't quite pro yet, but want to be. From making amazing business cards to bringing a stone statue to life, these take us through hours and hours of practicing those skills. These tutorials are some of the best and varied out there. If you learn to master some of the techniques and tricks from these, you will be sure to land on your feet looking like a pro! But be aware that for most of these a basic+ understanding of Photoshop is required to be able to follow the steps.
This week's tutorial deals with creating masks for complicated images by using channels. Corey is a education and curriculum developer for KelbyOne. He is a graduate of the Ringling School of Art & Design in Sarasota, Fl, with a degree in Illustration.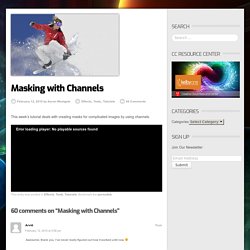 Masking with Channels | Effects Tools Tutorials
Retouching with Dodge and Burn | Photography Tutorials
TutsArena - The best web design tutorial resource for designers on the web!
In the previous post, I've explained how to properly draw the eye. Further, I will explain how to draw the nose easily from scratch and with not too much strain. This Photoshop Text Effect Tutorial teaches you step by step how to create a cool Chrome, Metallic, Medieval Text Effect using easy Photoshop Tools like Blending Options, Gradient Tool and more!