Maps and GPS Stuff
Welcome to MeetWays! MeetWays was established to help people easily find a halfway point between two locations. If you're thinking about meeting-up with a far away friend, organizing a Craigslist transaction, or meeting a client for lunch, MeetWays can help you find the perfect middle point. Simply enter the addresses and a point of interest and MeetWays will do the rest! Go ahead.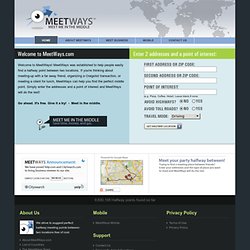 Cell Phone Tracking | GPS Mobile Phone Tracking
tinymap - quick and easy maps
GPS, Tracks, Trails, Tours, Converter: hiking - walking - running - skating - cross skating - handcycle - cycling - racing bike - mountainbiking - motorbiking - enduro/quad - cabriolet - car - nordic Skiing - alpine skiing - randonnee skiing - snowshoeing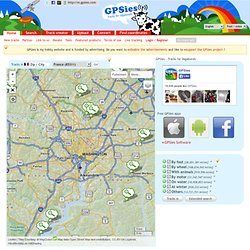 http://m.gpsies.com GPSies is my hobby website and is funded by advertising. Do you want to disable the advertisements and like to support the GPSies project ? FullscreenMore...