Blogs/Topics For our first inspirational list of 2014 we decided to gather examples of white type in web design. I'm always browsing css galleries and other sites to find nice things to show here, and I noticed that a lot of sites use the dark/colorful background white type combo. This is why I decided to dedicate a list to it. Whether you are using a beautiful background image, a texture, or even a big video, overlaying white type can create a very dramatic effect.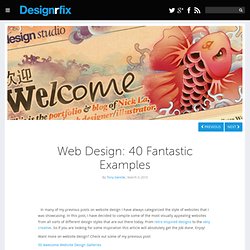 In many of my previous posts on website design I have always categorized the style of websites that I was showcasing. In this post, I have decided to compile some of the most visually appealing websites from all sorts of different design styles that are out there today. From retro inspired designs to the very creative. So if you are looking for some inspiration this article will absolutely get the job done. Enjoy! Want more on website design?
Web Design: 40 Fantastic Examples
My passion is discovering what makes web pages work better - and to share that knowledge with the world. I have been a pro web designer since 1994. I started Web Design from Scratch in 2004 to share free articles and tutorials on effective web design, covering a range of topics from graphic design to SEO, HTML and CSS to copywriting. Here's the most important thing I've discovered… Most of what we think makes a difference (i.e. generates action, signups, sales etc.) really doesn't! Truthfully, to be among the very best web designers today, you need to master a range of marketing skills, but most of all you need insights to know what matters, what to change, and when. That's what I teach with my comprehensive Pro Web Design Course: Now over 100 hours!!