Adobe Lightroom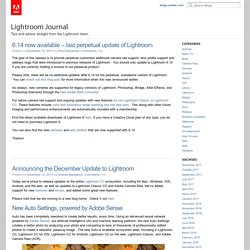 Lightroom Journal
Camera Raw 7.4 Release Candidate now available Camera Raw 7.4 and DNG Converter 7.4 Release Candidates are now available on Adobe Labs This release includes bug fixes, new camera support, and new lens profiles. New Camera Support in the Camera Raw 7.4 Release Candidate Canon EOS 1D C Casio Exilim EX-ZR700 Fujifilm X100s Fujifilm X20 Hasselblad Lunar Leica M Nikon 1 J3 Nikon 1 S1 Pentax MX-1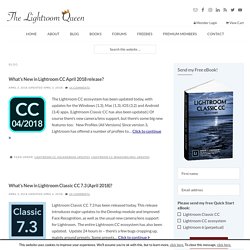 Here we are in 2013, and the year's rushing away already. Laura Shoe has written an excellent post on how to update your Metadata presets for your 2013 copyright.* Did you remember to update yours? If not, you can update the metadata on photos shot so far this year. You'll need to find the 2013 photos first, so go to All Photographs in the Catalog panel and then turn on the Metadata filters at the top of the Grid view. If the Filter bar's missing not there, press the / key. Select Metadata along the top, and then in the Date column select 2013.
The Lightroom Queen
Lightroom Presets: Pretty Presets
Get Lightroom 3 Templates & Tips on Using Templates Effectively
Free Lightroom photo gallery plugin to showcase your photos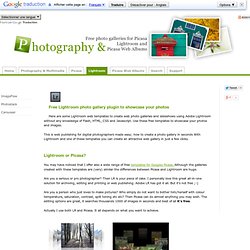 Here are some Lightroom web templates to create web photo galleries and slideshows using Adobe Lightroom without any knowledge of Flash, HTML, CSS and Javascript. Use these free templates to showcase your photos and images. This is web publishing for digital photographers made easy; how to create a photo gallery in seconds With Lightroom and one of these templates you can create an attractive web gallery in just a few clicks. Lightroom or Picasa? You may have noticed that I offer also a wide range of free templates for Googles Picasa.
128 Free Collage Templates for PS/PSE and Lightroom – Why Didn't I Think of That? Wednesday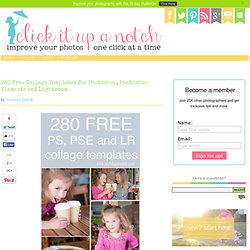 Welcome!
UPDATE 6/10/2010 – These templates were successfully tested in Lightroom 3 (but they don't work in Lightroom 2) I've been enjoying Lightroom 3 BETA a lot! Everything seems to be working more smooth and now I can make collages in there too! No more dealing with layers in Photoshop. At least for simple layouts.
Free Collage Templates for Lightroom 3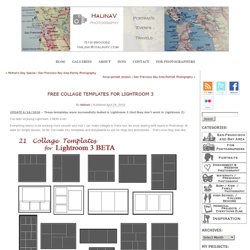 How to Make Your Portraits POP with Lightroom
The other day I wrote this Lightroom tutorial on my blog . I thought I'd share it here and see if anyone finds it helpful. I'm using a quick photo I took as an example for importing photos into Lightroom.
Using the PhotoSafe Plugin to Protect Important Photos in Adobe Photoshop Lightroom 3
Lightroom Training & Tutorials
Videos tagged 'peachpittv' on Vimeo
Working with Lightroom 3 Vignettes
Eric Scouten: Blog — The photography, travel, and technology blog of Eric Scouten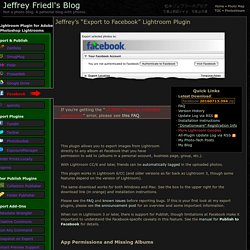 Export to Facebook" Lightroom Plugin
This plugin allows you to export images from Lightroom directly to your Facebook account. This plugin works in Lightroom 4, Lightroom 3, and Lightroom 2 . The same download works for both Windows and Mac. See the box to the upper right for the download link link (in orange) and installation instructions.
Share this Episode Adjust your embed size below, then copy and paste the embed code above Community Translation Your transcript request has been submitted. Adobe TV does its best to accommodate transcript requests. It can take a few weeks for the transcript to become available in the Community Translation Project, so keep checking back.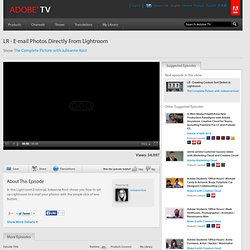 The Complete Picture with Julieanne Kost - LR - E-mail Photos Directly From Lightroom
LR/GMail – Send your images via GMail directly from Lightroom 2Photographer's Toolbox | Photographer's Toolbox
We've just released the latest Lightroom 2 plug-in by Timothy Armes - LR/GMail . This export plug-in will send exported images by email using your GMail account. As an extra nicety, the addresses in your "My Contacts" group are downloaded from your Google account so that they can be offered automatically as you type into the To, Cc and Bcc fields. The plug-in also tracks to whom you've send each photo, which may prove useful to your workflow. There's one caveat: the plug-in needs to connect to Google's SMTP server to send emails, and this may not be possible if you're behind a company firewall that prevents connections to SMTP servers.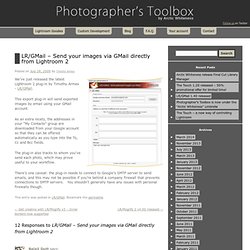 Tutorials, How To Edit Pictures
Lightroom Tip - Using Snapshot record sequence of edits
Lightroom v1 has a powerful new feature called ' Snapshot ' which allows you to save and re-apply a sequence of edits on any image. It's a bit like Photoshops' Action but far easier to use. It can be found under the History Panel on the left hand side of Develop Module . Snapshot Function in Lightroom It is used as follows: Perform a sequence of edits in the Develop Module which will be automatically recored in the History section.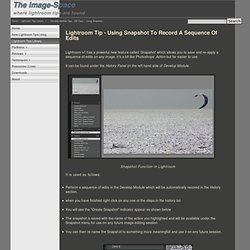 Polarizing Skies in Lightroom - O'Reilly Digital Media Blog
I'm always leaving my polarizing filter in the wrong camera bag. Yet I live in West Marin County…one of the nicest places on Earth for taking nature pictures. Given all the lovely sunny days we've been having lately, however, with no polarizing filter it's way too likely I'm going to get boring, washed-out skies. Well, if you've got Lightroom, that no longer need be the case. It only takes about two seconds to darken most any sky.
Check back often for new additions! Instructions: 1. Click on preset title or example photo to download. If this doesn't work, right-click title or photo and choose "Save As" 2.
A Scenic World » Lightroom Presets
Home | The Lightroom Queen
Photographer's toolbox - your source for Lightroom Plugins and Web Engines
Lightroom | profiPhotos News
Warming preset | Albertdebruijn.com
This is a set of 2 presets with a wonderful warming effect. The resulting warm look is further enhanced with a vignette.The preset works equally well with JPEGs and Raws. As the name implies, it adjusts the white balance to add a wonderful warm tone to the image.
Lightroom is a very powerful image management application database from Adobe, it not only allows professional photographers to manage hundreds and thousands of images, it also allows you to to do high quality post production work, you can also create time saving preset effects that you can use over and over, or you can download some of these professional presets below, and really give your photo some life. 300 Movie Style 6 Black & White A preset that goes dark in black and white Get the CSI Miami look
Jeffrey Friedl's Blog Not a photo blog. A personal blog with photos. Home • Photo Map TOC • Photostream Jeffrey's Lightroom Goodies (Plugins and Tools) My Tech-Related Photography Posts
TV | The Complete Picture with Julieanne Kost