Tiki&hawaii
Hawaiian Art - Island Art Store - Hawaii Art Prints, Posters, Greeting Cards
Monday, June 18, 2012 Martha Cheng It is an amazing lychee year. I know this because I've visited three stands around Chinatown, hip-checked a few pushy popos , reserved lychee shipments at The Wine Stop, and more importantly, eaten seven pounds of lychee, all so I can tell you: It's an amazing lychee year. Last year, we had hardly any.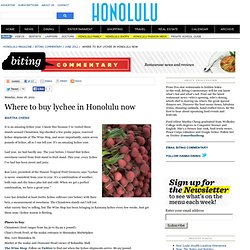 Where to buy lychee in Honolulu now - Biting Commentary - June 2012 - Honolulu, HI
Displaying Reviews 1-10 of 86 [ 4 of 4 customers found this review helpful ] Not all it is built up to be!! By Lori from Dilke on 3/21/2013 Bottom Line:
Go Oahu Card: Oahu Attractions, Tours, and Things To Do from Smart Destinations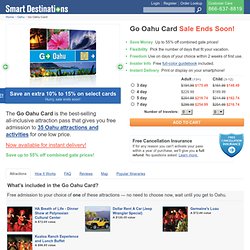 Tiki-Bamboo-Art
Crazy Box - Rock´n´Roll, Rockabilly, Psychobilly & Hotrod Clothes - Crazy Box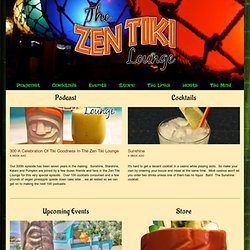 Aloha Tiki Friends. Sunshine and the ZTL crew have put together a list of some of their favorite web hot spots. Some of these are great resources for anything from music to finding that perfect tropical pottery for your bromeliad. Podcasts, Tikirific info and resources, books and plenty of "other." None of these sites actually sponsor our program so remember to check things out before going crazy and dropping your whole paycheck on kitchy Tiki stuff.
Tiki Links « Zen Tiki Lounge
TIKI SHOP, le specialiste du Tiki en France.
* More photos and recaps: Facebook page | Facebook group * Press coverage: Special audio feature and story from NPR | Broward New Times photos * More coverage from The Atomic Grog * Official photos from Go11 Media Hundreds of Tikiphiles from around the world gathered in Fort Lauderdale on April 19-22 for the 11th edition of the largest event on the U.S. East Coast dedicated to Polynesian Pop culture. It was a jam-packed four days of informative symposiums, live music, artists and vendors, and – of course – many tropical-themed cocktails. Here's a full recap with highlights and first-hand reports.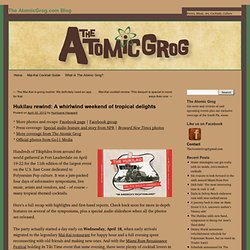 Hukilau rewind: A whirlwind weekend of tropical delights | The AtomicGrog.com Blog
Taropatch.net
Tikifarm mugs, Tiki becher, cocktail, cocktailbecher
The Cuisines of Hawaii | By Kohana Au | Category: Cooking
Listen live streaming.hawaiian105.com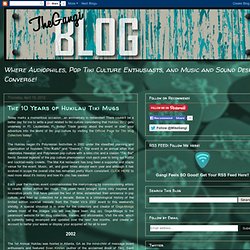 The Gangi Sound: The 10 Years of Hukilau Tiki Mugs
Today marks a momentous occasion...an anniversary to remember! There couldn't be a better day for me to write a post related to tiki culture considering that Hukilau 2012 gets underway in Ft. Lauderdale, FL today! Trade gossip about the event or start your adventure into the world of tiki pop culture by visiting the Official Page for Tiki Mug Collectors today! The Hukilau began it's Polynesian festivities in 2002 under the steadfast planning and organization of founders "Tiki Kaliki" and "Swanky." The event is an annual affair that celebrates Hawaiian and Polynesian pop culture with a retro chic and a classic "Tiki Bar" flavor.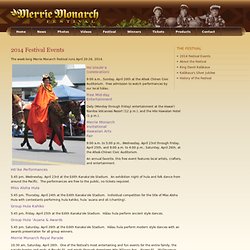 The week-long Merrie Monarch Festival runs from March 31 - April 6, 2013. Hoʻolauleʻa (celebration) 9:00 a.m., Sunday, March 31st at the Afook Chinen Civic Auditorium. Free admission to watch performances by our local hālau. Free Mid-day Entertainment
2012 Festival Events
HULA-GIRLS
Logo Page
Tiki mugs are one of my many collections that fit into the mid-century category of collecting. They are colorful, whimsical, and I can usually pick them up for not a lot of money at flea markets. Though many different mug designs were available for mass market consumption, and new mugs are still being created today, some of the best designs were created for specific restaurants.
The Hawaiian Cottage | The Collector Gene
Papahānaumokuākea Marine National Monument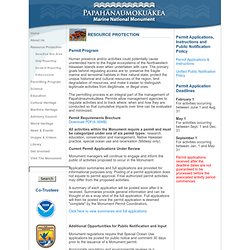 Resource Protection Human presence and/or activities could potentially cause unintended harm to the fragile ecosystems of the Northwestern Hawaiian Islands even when undertaken with care. The primary goals behind regulating access are to: preserve the fragile marine and terrestrial habitats in their natural state, protect the unique historical and cultural resources of the region, limit degradation of resources, and make it easier to distinguish legitimate activities from illegitimate, or illegal ones. The permitting process is an integral part of the management of Papahānaumokuākea. Permits allow management agencies to regulate activities and to track where, when and how they are conducted so that cumulative impacts over time can be evaluated and minimized.
Hula Dance Steps In Depth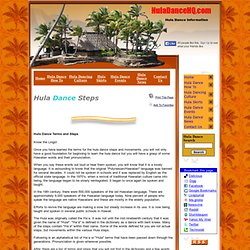 Know the Lingo! Once you have learned the terms for the hula dance steps and movements, you will not only have a good foundation for beginning to learn the hula dance but you will have a grasp of some Hawaiian words and their pronunciation. When you say these words out loud or hear them spoken, you will know that it is a lovely language. It is astounding to know that the original "Polynesian/Hawaiian" language was banned for several decades. It could not be spoken in schools and it was replaced by English as the official state language. In the 1970's, when a revival of traditional Hawaiian culture came into being, the language began to be slowly reintegrated.
How to Do Hula Dancing for Fitness
+ Hawaii Alive | Home +
Hawaiian Hula Archives
Aha Punana Leo | Aha Punana Leo
Ulukau: The Hawaiian Electronic Library
Nā Puke Wehewehe ʻŌlelo Hawaiʻi
Hawaii Island artist Leilehua Yuen began designing and producing her line of Hawaiian Language greeting cards in 1994, gradually developing it into the largest and oldest currently produced line of greeting cards in the Hawaiian language. Originally they were available only in fine art stores on the islands of Hawai`i and Maui. Now, she has begun to upload her designs to CafePress, making them available to everyone who enjoys her art. It will take time to upload her extensive line, so please check back regularly!
Hawaiian Greeting Cards for All Occasions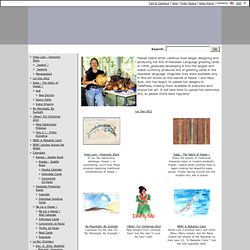 Welcome to The Hawaii Gourd Society - Dedicated to the Preservation of Hawaii IpuCulture
Pawehe On O`ahu, gourds were stained in patterns, possibly in a method similar to that used on Kaua`i. The skin was scraped from the shell in the areas which were to be colored.
gourds,ipu, culture, arts, religion, lifestyle, hula of Hawaii
Great View and everything you will need! Overall rating: Bob & Stacy from So. CA on 03/18/2013 said:
Photos And Videos for Ilikai Marina Condo 1182
CARVED TIKI MASK 8" - STRENGTH TIKI - TIKI DECOR
Nalu Music » On Acacia koa
Tiki_Art_by_Stevo
Wood hand made
NOCHES DE BORA BORA
Es posible que los más veteranos visitantes del blog recuerden cuando hablamos aquí de la construcción de un espectacular complejo hotelero Tiki en la costa de Málaga. Las circunstancias económicas de aquel momento no parecian augurar un futuro muy prometedor para semejante propósito y todo parecía indicar que se trataba de algo condenado a terminar sin remedio en el limbo de los proyectos nunca realizados. Pero si algo hemos sacado en claro de la historia del Pop Polinesio en España es que cuando un hostelerode nuestro país sucumbe a la fiebre del Tiki, no hay obstáculo suficientemente grande como para impedirque lleve a cabo su idea por muy descabellada que esta sea.
The Honolulu Advertiser | Celebrating 150 Years
Posted on: Sunday, July 2, 2006 A reflection of Hawai'i — since 1856 and continuing For 150 years, The Honolulu Advertiser has been both a part of Hawai'i's community and the first draft of its history. First as the Pacific Commercial Advertiser and then as The Honolulu Advertiser, it has chronicled the political, economic, social and cultural life of these Islands. The Advertiser's own story begins on July 2, 1856, when Henry Whitney, born on Kaua'i and the son of missionaries, printed the first edition of what would become the longest continuously published newspaper in the Islands. It was four pages, a weekly, and advertising dominated the front page.
Favorite Entertainer of the Year Awards
Lanikai Oasis
Blue Hawaii Resorts
Ka Leo o Na Hula
Slack Key Recordings
MY UKULELE KIT
Mary B Decorative Art MB Mary B Decorative Art Japanese Glass Fishing Floats Fish Net Buoys Tiki Decor in Light Blue