Video Games and Literacy
Video Games Transforming Education: Infographic | SiliconANGLE - Persistent Pondering
How Internet is Revolutionizing and Shaping the 21st century education
RPTools - Home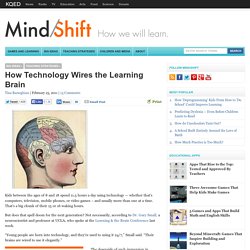 Getty Kids between the ages of 8 and 18 spend 11.5 hours a day using technology — whether that's computers, television, mobile phones, or video games – and usually more than one at a time.
Game Theory
How Much Data Will Humans Create & Store This Year? [INFOGRAPHIC] - Persistent Pondering
Games: Serious and Social
The Rebirth of the Video Game Consoles
Teaching Tenacity & Metacognition through Games : Professional Learning Board
Games and objects ground instruction, and provide the basis for experience and mental representation — comprehension . When we have this, we can spend less time decoding and more time discussing printed text. So by writing about accessible narratives such as games, we were more successful when reading related printed text. We had learned process, concepts, and deconstructing problems. This led to huge changes in student academic performance and confidence.