strategies
Get flash to fully experience Pearltrees
He was in the first third grade class I taught at Saint Mary's School in Morris, Minn. All 34 of my students were dear to me, but Mark Eklund was one in a million. Very neat in appearance, but had that happy-to-be-alive attitude that made even his occasional mischievousness delightful. Mark talked incessantly.
Relaxation Scripts I looked EVERYWHERE for these scripts, and they have made all the difference. I use them before simple tests, before state tests and sometimes just as a special treat. Turn off the lights, ask students to find a spot on the floor where they are not touching anyone, and read one in a soft, pleasant voice. The students love them.
<div class="cdOLblEmRed cdSearchResultsMargin">Warning: This site requires the use of scripts, which your browser does not currently allow. <a href="http://o15.officeredir.microsoft.com/r/rlidJSHelp?clid=1033">See how to enable scripts.</a><br/></div> All Products
Photo by Moving Mountains Trust Good teachers are rare, and few people, including school administrators who hire teachers, know what it takes to be one. Although some of the qualities of good teachers are subtle, many of them are identifiable.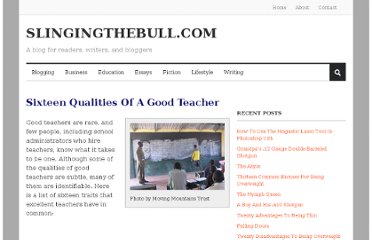 Various researchers have summarized how to use Bloom's Taxonomy. Following are four interpretations that you can use as guides in helping to write objectives using Bloom's Taxonomy. From: KC Metro [old link, no longer functioning?]