Hacking
Two ordinary turntables are hacked to make drawings in the compelling art project "Drawing Apparatus." The drawings produced by the contraption resemble old Spirograph images, and the simple DIY design of the device has an appealing vintage look and feel. Robert Howsare, a printmaking MFA student at Ohio University, explained how he built the device for under $50 in a phone interview with Wired. "The turntables were just the ones I had in my house," Howsare said. The turntable on the left, as portrayed in the video above, is an old Technics direct drive turntable — not the popular SL-1200 series favored by DJs, but a low-end model Howsare found at a yard sale.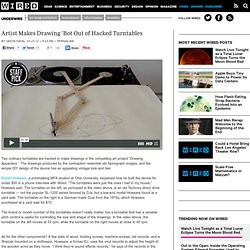 Artist Makes Drawing 'Bot Out of Hacked Turntables | Underwire
How to make a Real Rorschach mask that changes and moves.