Sliders
Automatic jQuery Slider - jQuery Auto Slider Demo
Apr 04, 2014 The jquery page slider playback is jerky Recently I've purchased the slider. I've inserted it into my page but playback is jerky when integrated with my website design. What's up??Apr 04, 2014 Move the jquery picture slider right or left I tried the free version and everything looked pretty good; however, I didn't see any options or settings for moving the slider right or left.Apr 03, 2014 Add music in div slider jquery Good morning. I have buy Wow slider 4.7 for mac and I would like to which format and how can I integrate music in my slider.Apr 03, 2014 "on-demand image loading" option in jquery background slider The problem occurs during the first 4-5 images.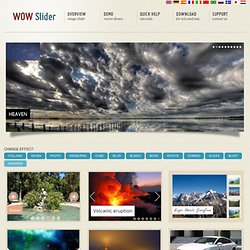 8 Fresh jQuery Plugin Slideshow You Should Know
You are here: Home » javascript » 8 Fresh jQuery Plugin Slideshow You Should Know Slideshows have become increasingly popular in the web page during the last years, image gallery and slideshow gives a good user experience and makes viewing images much more enjoyable and intuitive on your website. jQuery as the framework for this increasingly popular day by day, more and more web developers come out with new ideas and creative every day.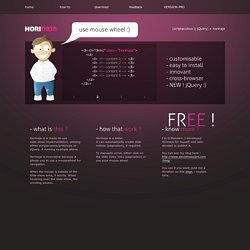 Horinaja is a ready-to-use slide-show implementation, utilizing either scriptaculous/prototype or jQuery. A running example above Horinaja is innovative because it allows you to use a mousewheel for navigation.
horinaja for scriptaculous or jQuery
we're rootin' for ya Save these two files into a folder called 'js' in your website's root directory (the one that your homepage or index.html/php/asp file is situated in). It's not really required that you put them into a directory called 'js', but it's pretty standard practice.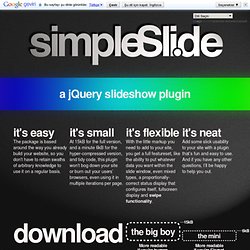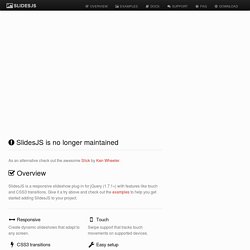 SlidesJS is a responsive slideshow plug-in for jQuery (1.7.1+) with features like touch and CSS3 transitions. Give it a try above and check out the examples to help you get started adding SlidesJS to your project. Responsive Create dynamic slideshows that adapt to any screen. CSS3 transitions Animations that run smoothly on modern devices. Touch Swipe support that tracks touch movements on supported devices.
Galleria has been serving top-quality image galleries to millions of web sites during the last years. We coulnd't be happier with all the positive response we recieved. Now, we are about to launch the next generation gallery service that makes it even easier for anyone to create, administrate and publish beautiful image galleries on any web site. We call it Galleria Display. We are now accepting a limited number of beta testers for our new service.

Apple-like Slideshow Gallery
piecemaker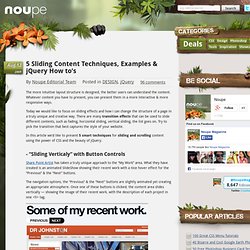 Aug 12 2009 The more intuitive layout structure is designed, the better users can understand the content. Whatever content you have to present, you can present them in a more interactive & more responsive ways. Today we would like to focus on sliding effects and how i can change the structure of a page in a truly unique and creative way. There are many transition effects that can be used to slide different contents, such as fading, horizontal sliding, vertical sliding, the list goes on. Try to pick the transition that best captures the style of your website.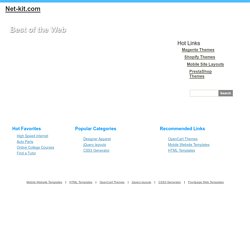 11 Oct 10 jQuery Custom Scrollbar Plugins If you ever wanted to add some custom scrollbars to your website, to scroll the contents and the default browser scrollbars just doesn't match up with your design, than make sure you check this list of 10 jQuery custom scrollbar plugins. Hope you find the following information helpful.