Sliders
Automatic jQuery Slider - jQuery Auto Slider Demo. Apr 25, 2014 Menu publishing error in jquery 3d slider I try to add wowslider into my page using Insert to page option.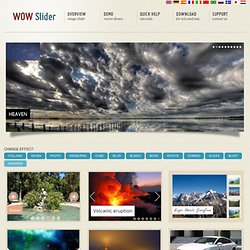 Every time I get an error: "Menu publishing error". What am I doing wrong? Apr 24, 2014 Jquery slider with thumbnails cube effect in IE8 Hello We really love cube effect, but it seems it has some problems with Explorer 8 (shows OK in all other browsers). Can you help me? 8 Fresh jQuery Plugin Slideshow You Should Know. You are here: Home » javascript » 8 Fresh jQuery Plugin Slideshow You Should Know Slideshows have become increasingly popular in the web page during the last years, image gallery and slideshow gives a good user experience and makes viewing images much more enjoyable and intuitive on your website. jQuery as the framework for this increasingly popular day by day, more and more web developers come out with new ideas and creative every day.
Horinaja for scriptaculous or jQuery. SimpleSli.de: A Super-Simple jQuery Slideshow Plugin. Slides, A Slideshow Plugin for jQuery. Galleria – The JavaScript Image Gallery.
Awkward Showcase – A jQuery Plugin | Awkward Group - Digital Production Agency. Apple-like Slideshow Gallery. Piecemaker. 5 Sliding Content Techniques, Examples & jQuery How to's. Aug 12 2009 The more intuitive layout structure is designed, the better users can understand the content.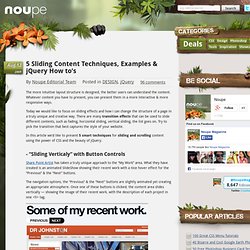 Whatever content you have to present, you can present them in a more interactive & more responsive ways. Today we would like to focus on sliding effects and how i can change the structure of a page in a truly unique and creative way. There are many transition effects that can be used to slide different contents, such as fading, horizontal sliding, vertical sliding, the list goes on. Try to pick the transition that best captures the style of your website. 10 jQuery Custom Scrollbar Plugins. 11 Oct 10 jQuery Custom Scrollbar Plugins If you ever wanted to add some custom scrollbars to your website, to scroll the contents and the default browser scrollbars just doesn't match up with your design, than make sure you check this list of 10 jQuery custom scrollbar plugins.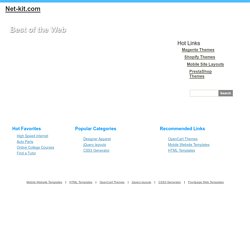 Hope you find the following information helpful.
---