CONVOCATORIAS
CLACSO - Concursos y Convocatorias
The Japan Foundation invites individuals and organizations that are planning international exchange projects and activities to participate in programs of the Japan Foundation. The Japan Foundation carries out its programs and activities in the following three major categories: 1) Art and Cultural Exchange, 2) Japanese-Language Education Overseas, and 3) Japanese Studies Overseas and Intellectual Exchange. Successful applicants are provided with grants, research scholarships, Japanese-language training programs, and other forms of support. The Japan Foundation Program Guidelines for Fiscal 2014-2015 outline the full array of the Japan Foundation's applicable programs. Please read the General Instructions thoroughly, and then go to the Program List, organized by categories and objectives, for general information of each program.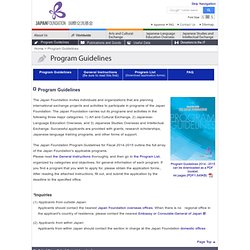 The Japan Foundation > Program Guidelines
Fulbright - International Educational Exchange Program - Home
Universia utiliza cookies para mejorar la navegación en su web. Al continuar navegando en esta web, estás aceptando su utilización en los términos establecidos en la Política de cookies. Cerrar Saltar directamente a los contenidos Miércoles :: 15 / 1 / 2014 Además ENCUESTAS | MIRÍADA X | REGISTRO | LOGIN |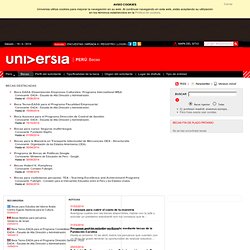 BECAS-PERU
Apoyo a la Investigación
IFS together with the Carnegie Corporation begins piloting a Collaborative Research Approach Graham Haylor , Director Robert Frost's famous poem, ' Ode to Individualism' celebrates the role of good fences in ensuring good neighbourliness, especially where fences protect crops from neighbour's cattle.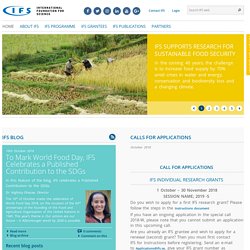 IFS - International Foundation for Science
Becas AUIP
About IAEA: Jobs
Focus on Gender For many years, the United Nations has faced serious challenges in its efforts to achieve gender equality in staffing, and the IAEA is no exception. In 2007, the IAEA and our Director General approved the Gender Equality Policy to work towards increasing the number of women in the IAEA's Professional and higher categories and to implement gender mainstreaming into its programmes. In the last ten years, the percentage of women in these categories has increased from 18% to 24% and we continue to search for and encourage women to consider employment with the IAEA.
Relaciones Internacionales :: Universidad de Zaragoza
Secretaria de Relaciones Exteriores
Entre los diferentes servicios que proporciona la Cancillería mexicana como una herramienta vital de la cooperación internacional para el desarrollo, es la capacitación de los recursos humanos del país, para ello esta Cancillería promueve diversas becas de postgrado e investigación, para mexicanos y extranjeros, así como cursos de capacitación para funcionarios de las instituciones nacionales ofrecidos por los diferentes países, agencias y organismos internacionales. Aviso Importante: Para cualquier duda o aclaración acerca de las becas y cursos, ponemos a su disposición los siguientes correos electrónicos: Para la "Oferta de becas, licenciaturas y posgrados para mexicanos": infobecas@sre.gob.mxEsta dirección electrónica esta protegida contra spam bots.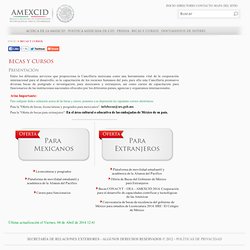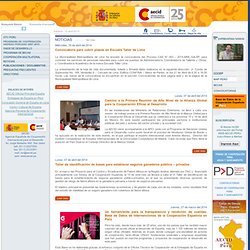 ::: Portal de la Agencia Española de Cooperación Internacional :::
El Programa de Formación de la FC tiene como objetivos facilitar y promover la ampliación de estudios de licenciados universitarios así como la especialización y actualización de conocimientos de postgraduados, profesores, investigadores, artistas y profesionales procedentes de los países de América Latina miembros de la Comunidad Iberoamericana de Naciones y Portugal. Para el curso académico 2014-2015, la actividad formativa de la FC se articula a través de cinco modalidades de becas: postgrado, doctorado y estancias cortas postdoctorales, emprendimiento, movilidad de profesores brasileños y Escuela Complutense de Verano.