CONVOCATORIAS
CLACSO - Concursos y Convocatorias
Program Guidelines 2013 - 2014 can be downloaded as a PDF booklet. 44 pages (PDF/1.61MB) Adobe In order to display or print PDF file, you need download Acrobat Reader. The Japan Foundation invites individuals and organizations that are planning international exchange projects and activities to participate in programs of the Japan Foundation. The Japan Foundation carries out its programs and activities in the following three major categories: 1) Art and Cultural Exchange, 2) Japanese-Language Education Overseas, and 3) Japanese Studies Overseas and Intellectual Exchange.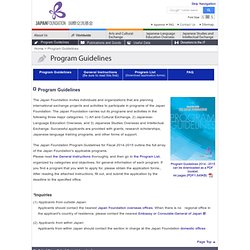 The Japan Foundation > Program Guidelines
Fulbright - International Educational Exchange Program - Home
BECAS-PERU
Apoyo a la Investigación
IFS - International Foundation for Science
Becas AUIP
About IAEA: Jobs
Focus on Gender For many years, the United Nations has faced serious challenges in its efforts to achieve gender equality in staffing, and the IAEA is no exception. In 2007, the IAEA and our Director General approved the Gender Equality Policy to work towards increasing the number of women in the IAEA's Professional and higher categories and to implement gender mainstreaming into its programmes. In the last ten years, the percentage of women in these categories has increased from 18% to 24% and we continue to search for and encourage women to consider employment with the IAEA.
Relaciones Internacionales :: Universidad de Zaragoza
Secretaria de Relaciones Exteriores
Becas y Convenios
::: Portal de la Agencia Española de Cooperación Internacional :::