Out-Of-Doors
V-strom protection, skid plates,radiator guards,lifts,oil cooler guards - ADVrider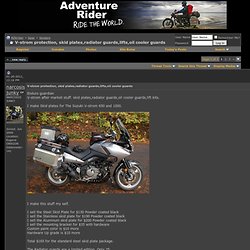 Enduro guardian V-strom after market stuff. skid plates,radiator guards,oil cooler guards,lift kits. I make Skid plates for The Suzuki V-strom 650 and 1000. I make this stuff my self.
Home Page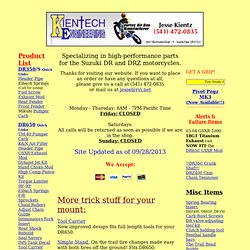 Specializing in high-performance parts for the Suzuki DR and DRZ motorcycles. Thanks for visiting our website. If you want to place an order or have any questions at all, please give us a call at (541) 472-0835 or mail us at jesse@rvi.net Monday - Thursday: 8AM - 7PM Pacific Time Friday: CLOSED Saturdays: All calls will be returned as soon as possible if we are in the shop. Sunday: CLOSED
Kientech Engineering Home Page
Crooked Tree Lodge is a family run establishment and we pride ourselves on giving a one on one personal service. Pricing is by request and we charge per cabana not per person. Price of cabanas range from US $60 for a cabana with one double bed in high season and increase with size of cabana, a 9% Govt tax will be added to accomodation charges. Meals are charged per meal and pricing is dependent on dietary requirements. We will always give the best deal we can dependent on occupancy. Camping charges are minimal US$10 and include free Wi Fi.
CONTACT US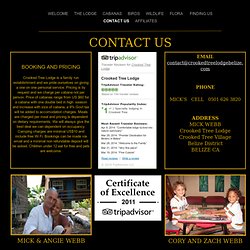 unnamed pearl
Spanish Traveling : FEES 2012
From Sucre we decided to head back into Argentina. As we did not want to back-track along the same roads, we decided to take a different route and travel through the town of Tarija – this would also mean we could avoid using the border at Villazon which was unpleasant and super slow. The roads in Bolivia were so much better than we expected, they seem to have paved a lot more of the major routes now so some of the horror stories about ridiculously long journeys are becoming a thing of the past – at least on the routes we took!! We did come across one stretch on the way to Tarija which hadn't been quite finished – they were working on that though. They had very kindly spread thick sand all over the road as part of their construction works…..thanks, bikes and thick sand are a great mix :) Dan tried to ride along the side as much as possible….and we hoped this didn't go on for miles!!! Thankfully it didn't.
Hey I've got an idea…..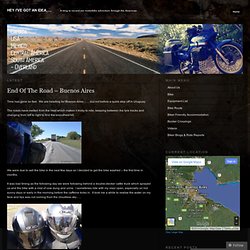 CA Tours - Motorcycle bike adventure tours in Guatemala.
Colombia, the best South American's roads for motorcycle travel! | Adventures57
Adventure Summits 2013 - You ride em!
Sailing Panama-colombia wIth Independence
Dualsport Plus Adventure Motorcycle & Rider Gear
Gravel Travel Canada
Motolombia
Motolombia has everything you need for your next big Motorcycle Adventure. Motolombia is one of South Americas most experienced Motorcycle Tour and Rental Operators. We have been running guided tours in Colombia and beyond since 2008. We always have well maintained latest model Touring and Dual-sport BMW, Kawasaki, Suzuki and Yamaha motorcycles available for Guided- and Self-Guided Tours or Individual Rentals. Don't only take our word for it – read what other Riders say about Motolombia.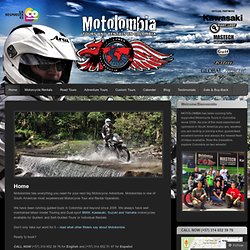 Ready for Daisy last run in South America being seen of by Javier of Dakarmotos After a late and eventual night needed to get the bike to the airport by 10.30 and the traffic here is pretty horrendous so left at about 9.30 with clear instructions from Sandra on the route and the process I needed to follow to get Daisy back home. Its only about 35km to the airport so I had given myself an hour but as I pulled onto the ring road wall to wall traffic and as mentioned before on this blog with my panniers on very difficult to split traffic and I was also a little bit nervous and did want to take any risks as it would be very embarrassing to come a cropper after 281 days and 65,000km on the road so settle in trying to enjoy my final run on Daisy crawling along at a snails pace to the airport. I was late but no problem met up with Eliza Massy who was also shipping her bike Cape Town South Africa and we waited for Franco the agent who was going to guide us through the process.
Phillys Big Trip | Alaska to Chile or is that Argentina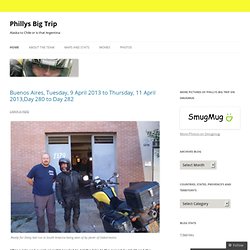 Trevor Heath - Home Page
Ride To Eat - Your guide to the best restaurants, great excuses for a road trip.
Welcome to Adventure Motorcycle - Dual Sport News Magazine!
Your personal guide to protective motorcycle gear. Reviews, shopping tips and more.
Full Throttle Camping
Dual Sport Parts, Accessories and Information - Rugged Rider
The Best KTM Motorcycle Suspension Possible: Super Plush Suspension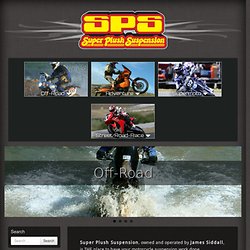 Super Plush Suspension, owned and operated by James Siddall, is THE place to have your motorcycle suspension work done. James has worked in professional roadracing for the past eighteen years including stints at such prestigious organizations as Factory Honda, Graves Yamaha and Team Hammer Inc. Years of experience in all aspects of motorcycle racing and with top Pro riders have given James the unique ability to tune your suspension beyond where you thought possible. James has also developed the premier suspension set up for KTM off-road and Adventure bikes. Working with successful Dakar and Baja racers has led to even further development in all aspects of suspension for off road, dual sport and adventure motorcycles. And, you can now Try It Before You Buy It on many KTM off-road bikes!
Homepage | Schuberth GmbH
RKA Products Page
The Tour of Idaho The Tour of Idaho (T1) is a 1400-mile dirt bike ride that begins in the Malad Range of southern Idaho and ends in the Selkirk Mountains near the Canadian border. It is very likely one of the most difficult long dirt bike rides in the United States. It is NOT a dual sport ride - plated dirt bikes, with lights, are required. There is a dual sport variant, T3, and a 500-mile dual sport friendly East-West Tour known as T2. Idaho has some new requirements for offroad motorcycles.
MotorcycleJazz - Tour of
Cycle Analyst | Accessories for the Dual Sport Entheusiast
Eton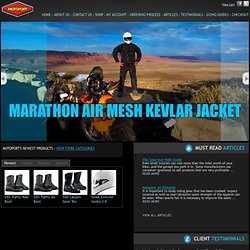 I just wanted to say thank you so much on all your help on my new jacket! I've ridden about a thousand miles with it so far. I have to say what a difference it makes having a jacket that stretches with me.
Motoport
| Showers Pass
Grip Puppies
Products
Catalogue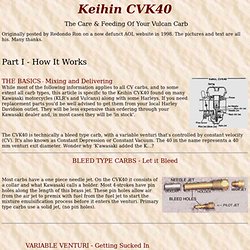 This system is referred to as the choke. But that's a misnomer. When you apply the choke lever, what you're doing is retracting a plunger that opens a tube connected to the starter jet, allowing additional fuel to enter the venturi just below the vacuum hose nipple. It supplements the pilot system at start up. When you set the idle with that big screw on the right side of the carb, what you're doing is covering or uncovering one or more of the four small holes that are drilled into the venturi, (leading to the pilot jet) just under the butterfly valve, and letting more or less air pass the butterfly. When you adjust the pilot screw that's under the carb, you are varying the amount of air premixing with the gas before it enters the venturi.
Care & Feeding Of The Keihin Carb
Pat Walsh Designs
Maps for travel, City Maps, Road Maps, Guides, Globes, Topographic Maps
Free worldwide Garmin maps from OpenStreetMap
Story of a New York - Alaska round trip motorcycle ride and other ramblings
Short Way Round
Stillwell Performance
Slavens Racing
Our Products
Motorcycle Tire Wear
Main
WindStrom Windshield for Suzuki V-Strom, Yamaha Tenere, BMW R1200GS motorcycle
unnamed pearl
Shop Online | Drift Innovation
Home
PD Oiler - home
Laminar LLC - Products for Motorcycle Windshields and Fairings, Makers of the LIP & Touring LIP
Arizona OHV Trails & OHV Maps OHV Places to Ride and Areas in Arizona
Johnny's Selected Seeds - Superior Seeds & Gardening Tools
Trans-Labrador Highway website - Home Page
Kendon Stand-Up Motorcycle Trailers Motorcycle Lifts Utility Trailers
Gel Motorcycle seat pads and cushions, Sheepskin Gel Pads
CMA International
J&M Motorcycle Audio
Home Page
Home
Ravencrest Tactical - Raven Crest Tactical Store
OGIO : Golf, Backpacks, Travel Luggage
Oxford Heaterz Sport 7/8" Heated Grips
Forum : Suzuki V-Strom Motorcycle Forums - View Single Post - Skid plates, Radiator guards,Oil cooler guards, Lift kits,I got them,and makem
Motorcycle Trailers, Motorcycle Trailer, Motorcycle Cargo Trailers, Motorcycle Trailer Hitches, Parts & Accessories | Bushtec Performance Trailers
Time Out Trailers, Inc.
What is Trailtail™?
Pure Enduro - Husaberg
driveonit.com - Homepage
Welcome to American Beta | American Beta
Safari Tanks
Welcome to Canadian Canoe Routes | Canadian Canoe Routes
the wood burning back packing camp stove
Cool Vest for Heat Stress Relief, Motorcycle Cooling Vest: Veskimo Personal Cooling Systems
TechNiche International
Tool box, Tool Case, Tool Chest, Metal Lathes , Wood Lathes, Milling machines, Band Saws, Cold Saws,Abrisive Saws, Scoll Saws, SHEET METAL MACHINES at Bolton Hardware
PAL-V | Ultimate Freedom
Trailmaster Adventure Gear
Curious by Nature
Four Wheel Campers | Low Profile, Light Weight, Pop-up Truck Campers
Sportsmobile Custom Camper Vans - Your Home Away From Home
ARB 4x4 Accessories
Overland Journal | The Publication for Environmentally Responsible, Worldwide Vehicle-Supported Expedition and Adventure Travel
SE-720
ManRacks is best viewed with firefox or Chrome
EXPLORING ELEMENTS » travel through an adventure sports lens
Earl - Backcountry Survival Tablet
LDComfort - Getting to the Bottom of Rider Comfort - Motorcycle Underwear
Hydration Packs with In-line water Filters and Pack Bladders by Geigerrig
Manual Canister, Tool Tube, Tool Carrier | Agri Supply, 67670, Manual Case
Home
RoadGear
Top Gun Home
SHINKO 244 SERIES DUAL SPORT TIRES - American Motorcycle Tire