Anthropology
Powered By Osteons: Why Is Anthropology Needed? When I was an undergraduate at the University of Virginia, the fake major that everyone joked about was underwater basketweaving.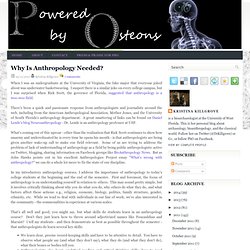 I suspect there is a similar joke on every college campus, but I was surprised when Rick Scott, the governor of Florida, suggested that anthropology is a woo-woo field. There's been a quick and passionate response from anthropologists and journalists around the web, including from the American Anthropological Association, Mother Jones, and the University of South Florida's anthropology department. Shame-Culture and Guilt-Culture. "Trial by media" is very much a feature of political life at the moment, and it works largely because it seems that the public has different standards of proof for misdemeanours among those in public life from those it maintains for private citizens.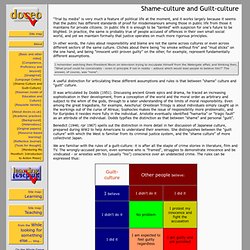 In public life it is enough to be "tainted" with suspicion for one's future to be blighted. In practice, the same is probably true of people accused of offences in their own small social world, and yet we maintain formally that justice operates on much more rigorous principles. In other words, the rules about responsibility and blame are not the same across cultures or even across different sectors of the same culture. Clichés about there being "no smoke without fire" and "mud sticks" on the one hand, and being "innocent until proven guilty" on the other, for example, represent fundamentally different assumptions. Structural Anthropology, by Claude Lévi-Strauss. Claude Lévi-Strauss (1958) Structural Analysis in Linguistics and in Anthropology Source: Structural Anthropology, 1958 publ.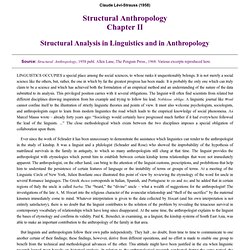 Main Page. The Internet Ancient History Sourcebook has expanded greatly since its creation, and now contains hundred of local files as well as links to source texts throughout the net.
See Introduction for an explanation of the Sourcebook's goals. See the Help! Page for all the help on research I can offer. Although I am more than happy to receive notes if you have comments on this web site, I cannot answer specific research enquiries [and - for students - I cannot, or rather will not, do your homework.] The Ancient History Sourcebook works as follows:
---