Transmedia/DeepMedia/Cross-Media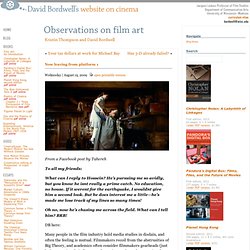 Now leaving from platform 1
From a Facebook post by Tahereh To all my friends: What can I reply to Hossein? He's pursuing me so avidly, but you know he isnt really a prime catch.
I agreed to give a keynote address at the "21st Century Transmedia Innovation Symposium". Normal dictionaries do not have the word "transmedia," but Wikipedia does. That definition introduced me to many other words that neither I nor my dictionaries had never before heard (for example, narratological). Strange jargon aside, I do believe that there is an important idea here, which I explore in this column.(Intelligible discussions can be found in the books and articles of Henry Jenkins (2003, 2006).) This article is published in ACM's Interactions, volume 17, issue 1.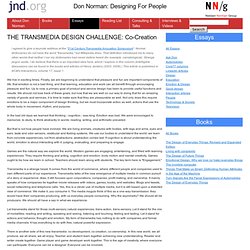 THE TRANSMEDIA DESIGN CHALLENGE: Co-Creat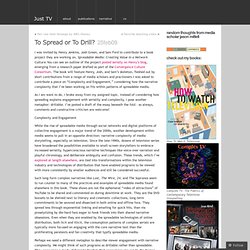 I was invited by Henry Jenkins, Josh Green, and Sam Ford to contribute to a book project they are working on, Spreadable Media: Creating Value in a Network Culture.You can see an outline of the project posted serially on Henry's blog, emerging from a research paper drafted as part of the Convergence Culture Consortium. The book will feature Henry, Josh, and Sam's skeleton, fleshed out by short contributions from a range of media scholars and practioners–I was asked to contribute a piece on "Complexity and Engagement," considering how the narrative complexity that I've been working on fits within patterns of spreadable media. As I am want to do, I broke away from my assigned topic. Instead of considering how spreading explains engagement with seriality and complexity, I pose another metaphor: drillable.
To Spread or To Drill? « Just TV
Deep Media
What's missing in most of the discussions media executives have about their businesses' future? The audience. Media execs across the board—in print, television, movies, and music—worry about shrinking profit margins, unpredictable technology shifts, and the ever-present specter of piracy. All of which is entirely understandable. But too often they miss what's most important—not technology itself, but the shift in behavior and expectations that occurs as audiences embrace some technologies and ignore others.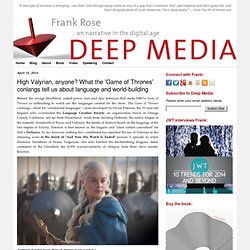 Henry Jenkins
7 Principles of Transmedia Storytelling (1)
7 Principles of Transmedia Storytelling 2
Christy's Corner of the Universe: cross-platform, creative pract
The Narrative Design Exploratorium™
Susan O'Connor - Writer This is an ongoing NDE series featuring interviews with Game Writers in the Trenches™. The game industry is riddled with the unsung heroes of interactive storytelling. As game developers are increasingly looking to create meaningful virtual narrative experiences, listening to the real-world wisdom of these writers can help everyone on the development pipeline understand their trials, tribulations, and needs, in hopes of enabling them to do their job as they know best.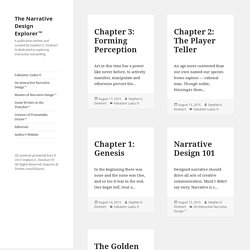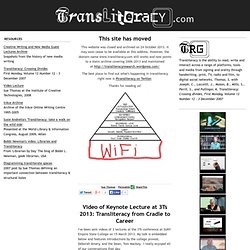 At 3Ts 2013: Transliteracy from Cradle to Career in Saratoga Springs this week I learned some new things about transliteracy. 1. In What I Want, When I Want to Watch It: Brief Thoughts on Television Literacy in the Streaming World with Hollie Miller & Michele Forte, Hollie aka @theotherinside showed us a feature on Hulu Plus which allows you to choose between adverts.
Transliteracy Research Group
Rheingold.com
Crap Detection Mini-Course February 20, 2013 Public Sphere In The Internet Age Network Literacy Mini-Course