Online ID Sites
People Magazine "chi.mp puts your Facebook contacts and info in the same place as your Twitter, Flickr, Yahoo and hundreds of other accounts"..."it's all in one place."
Blog Widget for Online Profiles
Hi, I'm - your nametag on the internet
Profile Decide how to tell your story. Pick and choose as many social networks, photo sharing apps and other personal information streams to add to Hi, I'm.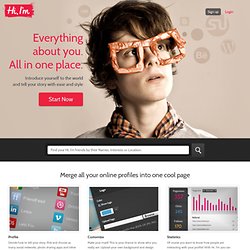 Thank you and goodnight. With a sad heart, we've decided it's time to shut down Retaggr. This will happen sometime this month (October). There are other free services (easily googleable) that will serve as suitable replacements. The key principles behind Retaggr have all moved on to other projects, and unfortunately just no longer have time to maintain what had become a labour of love.