Domain Naming Tools
Domain Generator and Registration from SnapItNow.com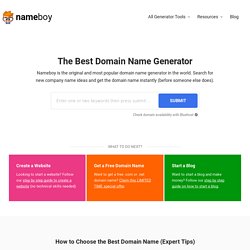 Domain name search - domain search. Find domains - available domain names lookup and website name generator. Nameboy, the ultimate domain name generator, website name generator and the best way to search domain names. Nameboy domain name search helps you find a domain name and register domain names. NameBoy will generate domain names based on the keywords you enter below.
Use Dot-o-mator to create domain name suggestions. How it works: enter a word (or words) in the left box, then choose some endings (or type in your own). Click to combine them. If you see a name you like, you can check its availability or save it to your scratchboard.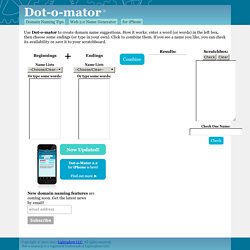 Welcome to 123finder.com! If you are searching for a name for your business or looking to acquire additional valuable domains, you have come to the right place. We provide intuitive and efficient tools to mine our extensive name database.
123finder.com - Domain name generator, search engine